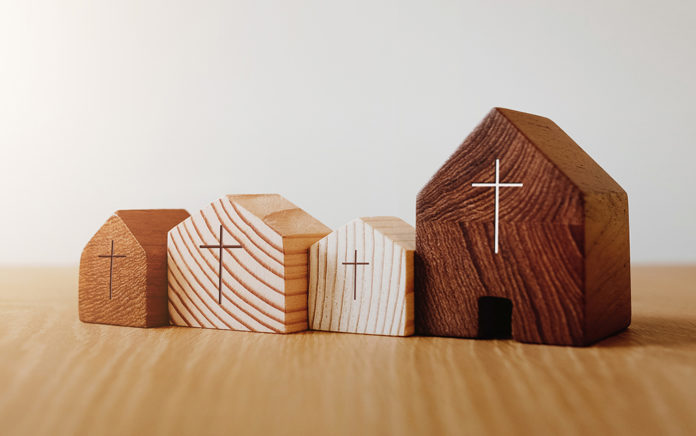 6 questions to ask before deciding to multiply.
My father is in his 80s and just finished eight weeks of chemo and radiation treatment for lung cancer. He needs physical healing, and he needs to meet Jesus. Over the past 40 years, my dad has heard the gospel many times and still pushes back on surrendering his life to the One who loves him most. He has seen all five of his children become followers of Jesus, yet he resists the offer of grace. His name is Terry and I would be honored if you paused for a minute and asked God to heal both his body and his soul.
As I have walked with my father through his battle with cancer, I have learned many lessons about this horrendous disease. I am not a medical doctor, so I think about these things in layman's terms. One of the biggest goals of battling cancer is stopping the multiplication of bad cells and increasing the multiplication of good cells.
As we think about multiplying churches around our community, nation and world, we should focus on markers of health. We need to be sure we are reproducing what is good, life-giving and honoring to God. We should also minimize and avoid multiplying what is unhealthy.
As you dream and pray about the possibility of reproducing, ask these six simple but probing questions.
1. Is Our Church Known As a Place of Grace?
Grace does not mean compromise. Grace does mean we look at people through the eyes of Jesus. He loved us when we were still deeply lost in sin, and he loves every person who comes to our church with the same grace (Rom. 5:8).
God longs to multiply churches with open doors to those who are very far from Jesus. People should know they can enter our congregation and be deeply loved even when they are living in ways that are dramatically inconsistent with what the Bible teaches. Jesus shared the intimacy of table fellowship with tax collectors, prostitutes and sinners, which drove the religious leaders crazy. When our church is a place of radical acceptance and extravagant grace, we have something to multiply that will bring life to the lost and honor to the Savior who came to seek and save the lost (Luke 19:10).
2. Are We Committed to the Truth of Scripture?
God loves congregations that know, cherish and follow his sacred and Holy-Spirit-breathed Word. In a world of compromise, the church must know where it stands, and we stand on the truth of God's unchanging Word.
God celebrates the reproduction of congregations and ministries that preach the Bible with boldness, conviction and in ways that ordinary people can understand. When a church teaches Scripture to children and youth, they are preparing to be a healthy multiplying movement. When we teach people to read, study, learn from and live out the words of Scripture, we become a church that should be reproduced.
Two years ago, the evangelism leader of a mainline denomination asked me if I would be open to training their leaders. I told her that I could not do it. When she asked why, I explained that her denomination no longer follows God's Word as their authority, so I did not believe I should help them multiply what is not healthy. The leader was not offended but sadly agreed. Then, she told me about a denominational training event she had with a large group of pastors. After being taught how to share the story of Jesus with nonbelievers, a number of them asked, "Do we have to use the 'J' word?"—"J" meaning Jesus. I have a hard time imagining that God would want to multiply churches filled with people who don't even want to speak the name of the Savior.
3. Are We a Conversion Community?
My friend Rick Richardson, in his thought-provoking book You Found Me, talks about the power of a community of believers that sees consistent conversions of people leaving a life far from Jesus and learning to walk in deep and mature ways with the Savior. When a church is seeing growth through people coming to faith in Jesus, this is worth duplicating.
Many churches grow through a community shuffling of the church-member deck. Believers move from church to church in pursuit of community, growth opportunities, better music, more dynamic preaching, more substantial children's ministry and many other reasons. This migration can lead to a church getting larger, but it does not mean it is a conversion community.
A large church that does not reach lost people might have a lot to offer, but multiplying this kind of congregation does not guarantee that the new church will reach the lost. There is a good chance it will not. We need to seek to be a conversion community before we multiply.
4. Is Authentic Worship a Marker of Our Church?
The church exists for three things: to bring glory to the living God (worship), to grow believers in spiritual maturity (discipleship) and to reach the world with the gospel (organic outreach). God wants to multiply gatherings of believers who are serious about exalting and lifting up the name of the God.
God longs to multiply congregations that worship in Spirit and truth. Joy should mark our worship, and praise should flow freely. When spiritually curious people walk in, they should see a level of sincere passion that is attractive and causes them to recognize that our faith is real. Examine any church that wants to reproduce and make sure that worship is real, Spirit-led and expressed from the heart.
5. Are Our Church Members Equipped to Share Their Faith Naturally?
It is one thing to have a church that reaches lost people. Often this happens when a church has a pastor who is an evangelist. But we need to dig deeper. Is every person who comes to faith in Jesus equipped, ready and excited to share their faith? Sadly, it is a rare thing to find in a congregation that takes seriously the call to equip the believers in their church to share their faith in natural ways.
I have spent the last 30 years developing resources and training church leaders to grow a culture of outreach in every part of a local church. But many churches and leaders I speak with simply can't find the time or energy to change the culture of their church to be outwardly focused on the lost, broken and forgotten. Before you multiply, seek to take seriously the call to prepare each person to be able to give an account for the hope they have (1 Peter 3:15).
6. Is Our Church Filled With Mature and Growing Disciples?
Before we decide to plant a church, start a multisite or launch a new ministry that carries the DNA of our congregation, look around. Are the people in your church the kind of believers you want to see all around your town, state and the world? If so, multiply. If not, take seriously the call to help every believer "become mature, attaining to the whole measure of the fullness of Christ" (Eph. 4:13).
Multiplication is wonderful when we are adding churches and ministries that have health and life and honor Jesus. But reproduction of unhealthy cells actually does damage. Take time to prayerfully look at your church, leadership and culture. If you are going to multiply health, may God richly bless you. If you are about to reproduce something that does not delight the heart of God, use your time and energy to grow health in your church. Then reproduce.