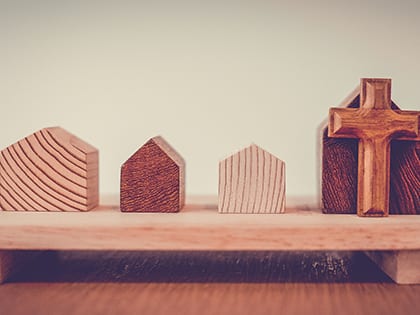 Is your church structured in such a way that it can accommodate rapid growth? Here are ways to determine if it is.
One of the greatest ways to prohibit movement is to under-structure and over-institutionalize yourself to the point your church cannot bear any more weight.
Many churches scratch their heads wondering why their numbers from year to year stay relatively the same while they can look at their records and see that many guests came through the door. For many churches, the reason why people fail to stay isn't a ministry issue; it's a structural issue. They simply don't have the structure in place to see reproduction and eventually multiplication. Just as chairs are designed to support a certain amount of weight, so too church structures are designed to handle a certain amount of people. Sadly, most churches don't realize they are perfectly designed to stay right where they are.
What if your church runs 80 adults and every one of those 80 invited a friend the next week? Does your church have the structure to accommodate them? What if the 1,200 people that attended the Easter egg helicopter drop showed up at your church the following week? Could you accommodate that many new people? When churches live in their small mindedness, they don't scale their structures to envision and include more people, and as a result movements never ignite.
In addition, many churches (including church plants) are not only practically under-structured for multiplication, but they are organizationally over-institutionalized for multiplication. For many churches, it would take an act of congress to authorize bringing on a church planter for an internship or residency and eventually send him out—not to mention mothering a church plant. It would have to go through this committee, then be heard by this group and after much prayer and discussion (by both groups) be brought up in the next church business meeting, where it would then be discussed, tossed around and possibly tabled until the next meeting. After months of discussions, prayer and deliberation, a topic that was birthed in the heart of God and seen in the pages of Scripture (church planting) finally is approved in the life of the church. Rather than moving at the speed of the Spirit, churches end up moving at the speed of committee.
Churches should be structured, practically and organizationally, for God to move rapidly reproducing disciples and birthing new churches. Structures must be catalysts for God's movement rather than bottlenecks.
Here are five characteristics of structures that serve as catalysts rather than bottlenecks for God's movement:
1. Simple. Is your structure simple? Do people understand the various roles and positions within the church? And do people understand their roles and responsibilities in the positions where they serve?
2. Reproducible. Is your structure something you could hand a potential church planter and it become a skeleton for them to implement? Is your ministry structure for small groups easily reproducible? What about your children and student ministries?
3. Flexible. Do you build margin and flexibility in your structure that can accommodate sudden moves of God?
4. Accountable. Does your church know who's accountable for leading them towards gospel-centrality and mission orientation?
5. Missional. Does your structure facilitate the mission of God or does it prohibit it? Is there oxygen within your structure for the mission to breathe?
When church structures are simple, reproducible, flexible, accountable and missional, churches organizationally and practically prepare themselves to both experience movemental Christianity and become a Level Five (multiplying) church.
This article is an excerpt from Multiplication Today, Movements Tomorrow that I wrote with Ed Stetzer. Download the e-book for free or purchase hard copies of this book here.
Daniel Im is the founder of NewChurches.com, a teaching pastor at The Fellowship Church in Nashville and the director of church multiplication for LifeWay Christian Resources and the author of No Silver Bullets: Five Small Shifts that will Transform Your Ministry. This article originally appeared on NewChurches.com.