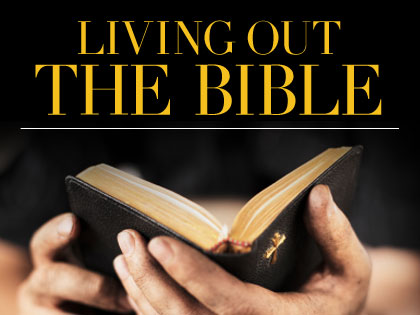 "Let's make sure we plead and pray for grace as we live out God's Word through our very lives."
Like many Outreach readers, my life can be and has been busy and hectic. Some days, my wife, Minhee, and I are exhausted, but investing in the things we deeply care about feels good. It's not an empty fatigue, but rather a gratifying tiredness. An example of this is the joy, privilege and burden of pointing our three children to the power of the Word of God.
Our second child, Trinity, has a special place in our hearts because she was born at one of the lowest points in my life. We left our previous ministry months before her birth in 2000 with the conviction and call to plant a church, but we had no idea how difficult the new year would be. I was unemployed and looking for work. We were financially broke. The kids were on food stamps. I felt like a failure because I couldn't adequately provide for my wife and kids. I eventually got a job as a custodian at a retail store.
When Trinity arrived, it was like a "miraculous" birth. She was born about four minutes after Minhee laid on the hospital bed. There were no drugs, no epidural and no doctor. Minhee experienced sharp pain, pushed several times, and the next thing you know, Trinity was here. Minhee and I cried like we'd never cried before. We sensed God speaking to us so intimately: "I love you. I am with you. I have not forgotten you."
A Spiritual Birth
A few months ago, we experienced another new and miraculous birth in Trinity. She increasingly has grown in the ownership of her belief in Jesus. At the age of 11, she chose to be baptized. And so, I again—with Minhee, her siblings and her church community—experienced this amazing moment. Trinity shared her faith story, confessed her sins, professed her love for Jesus and was baptized in the name of the Father, the Son and the Holy Spirit.
As parents, Minhee and I obviously want the best for our children. We try our best—even as broken and imperfect parents—to provide for our children in many ways: food, shelter, clothing, education, etc. Those things matter, no doubt, but there's nothing more important than pointing them to Jesus—with the Scriptures, the Christian community, our words and with our affection. From birth, we've placed a strong emphasis on the importance of Scripture: Reading it. Knowing it. Memorizing it. Praying through it. Singing through it.
Demonstrating Scripture
We were especially moved and humbled on the weekend of Trinity's baptism when she shared why she was choosing to profess her love for Christ. Trinity said, "I didn't first believe in the Bible, but it came alive for me through your actions and through church. … It became personal and powerful."
The Bible is important. It is the story of God. It is the word of God. But its impact, influence and power is that much more demonstrated when it's lived out through the imperfect lives of His people. This is possible only through the grace of God. The Bible. Let's read it, know it, memorize it, pray through it, sing through it and read it even more. But let's make sure we plead and pray for grace as we live out God's Word through our very lives. People are watching.