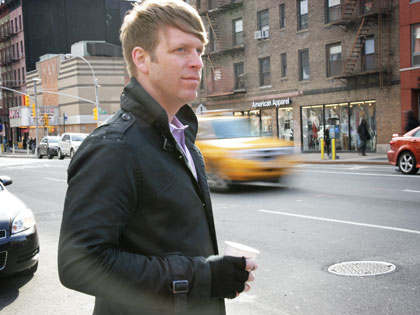 "Non-Christians experience countercultural Christianity when they're invited to experience the faith without necessarily making commitments first."
Five years before the Gabe Lyons interview appeared in the May/June 2011 Outreach, he founded Q, a nonprofit organization to help believers redemptively engage culture. Then he penned two watershed books. The first, co-authored with David Kinnaman, examined what a new generation really thinks about Christianity. His second book, The Next Christians, relates "the good news about the end of Christian America." He sees Christian "restorers" transforming culture (and the face of the faith) one relationship, one act of service and one conversation at a time.
It's a human trait to like clean and neat. The church is no different. But our response to the messiness we've seen has been to avoid it, which is exactly how the religious leaders in Jesus' day reacted to those "beneath" them. We've gotten self-righteous. We forgot that we were once in that same place. So for a lot of us, it's a difficult step to take. It means sacrificing our time, our energy, our money and maybe wasting it on others who don't really appreciate it. But the life of Jesus models something different.
As church leaders, we need to welcome people into our communities who don't necessarily have life figured out yet. It will make others uncomfortable, but that's a good uncomfortable feeling for people to have. No, they don't necessarily believe the same way we do. But the only way we bring the truth of the Gospel to them is when they see the Gospel lived out in a way that doesn't exclude them.
The idea of going out to reach people then bring them into what we're doing—using savvy methods to bring them into church services—the next Christians shy away from that. To them it feels inauthentic and forced to have a sort of "strategy." It smells like advertising, and they don't want to be associated with something that can set up the church as a "brand" seeking more customers by looking cool and hip.
We forget that the way we do something reflects what we believe. It paints a great picture of who we really are. The next generation of Christians is more interested in building relationships and trusting God with outcomes.
The Holy Spirit converts the heart—our role is to have an answer to what we believe, not to make people believe. [Evangelism] happens naturally through relationships—serving together in community and meeting needs. In this context, it becomes easy to tell your own story to others. This approach also means less pressure trying to attract people to a Sunday service; instead there are service and outreach projects rather than efforts to convert them to our way of life. John Stott says that social action and evangelism are perfect dance partners. This generation really gets this right.
[This] makes some people nervous because "maybe non-Christians won't hear the Gospel if we're not bold enough to share it." But it goes back to understanding first-century Christianity. When the plagues came to Rome, doctors started to flee the city, but Christians stayed and gave bread and water to the sick—they risked getting the plague too. Over time many of those people the Christians aided were motivated to become part of the faith as well, and then Christianity became the dominant faith in Rome. So faith sharing can be seen as a process.
Now the door has been opened much wider—to people of all faiths. It's not "you can enter once you have these things figured out." Anybody's welcome. Non-Christians experience countercultural Christianity when they're invited to experience the faith without necessarily making commitments first. It's a much more nuanced approach.