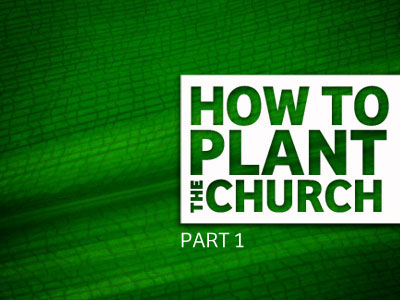 8 church planters describe their prelaunch process and how they chose when to launch
Church planters must consider and plan for a wide variety of factors as they prepare to launch and lead their new churches. One of the most important decisions affecting whether a new church starts well is choosing when to hold the launch service itself. Here, eight church planters from diverse settings nationwide share some of their prelaunch experiences and explain that weather, holiday timing, culture and other factors influence whether the timing is right.
Briefly describe your prelaunch process.
Paul Andrew: My wife, Andi, and I moved with our three kids from Sydney, Australia, to New York City in June 2010 to plant Liberty Church. We knew very few people in the city when we arrived; in fact Liberty Church was small enough to fit around a Central Park bench in those early months. But by July, we started two connect groups to disciple those who were getting connected, and by August, we had a small core team who were excited to invite friends. We held the first of four monthly "gatherings" in September. To our surprise, 48 people turned out, and two made decisions for Christ. That day we launched what we called 50/50/50—50 days to raise $50,000 and get 50 people on our launch team. The gatherings were a critical opportunity for us to build momentum, consolidate our team, communicate our vision and DNA, and provide a focus point for our passionate community to bring friends and family. As we focused on building our launch team, we met with them every Sunday morning (besides the gatherings), and we were very intentional about creating ownership together. By December, we believed we were ready to launch with well over 50 team members on board and the support of the Association of Related Churches.
Paul Andrew, Lead Pastor, Liberty Church, New York City, launched Jan. 23, 2011, with 150 attendees. Current attendance: 200+
Scott Bloyer: I was actually working as a pastor to students in Northern California when I felt like God laid it on my heart to start Elevation. It was Oct. 8, 2008. I was sitting on the back patio of my house, looking out at the beautiful bay, and I wrote the name Elevation and four principles of the church, and I thought, Oh, I don't want to do that. I just kind of closed the journal and was like, "No, no, no, I don't want to do this. My wife doesn't want to be a lead pastor's wife." In fact, she had told me that several times. A month later, I'm sitting in the living room, and she comes out of the back bedroom crying. She happened to be reading Mark Batterson's book Wild Goose Chase, and she came out and said, "I just feel like I've been holding us back from making a few decisions. I really feel like God wants us to start a church." I went and got my journal folder. We prayed about it and we talked to our kids about it because I at the time had two high schoolers and a middle schooler, and we all as a family said, "OK, if this is what God wants, we're going to do it."
My wife was online on Facebook with a friend of hers from here in Colorado, which is where both my wife and I were born and raised, and she led her friend to the Lord through Facebook. Her friend said, "If you guys had a church here, I'd go." Immediately, my wife turned around and goes, "We have to go home to Aurora, Colorado." I'm like, "No, no, no. I don't want to do that." I really didn't give my life to Christ until I was 21, so throughout high school and all that, I wasn't really probably the best of people. My wife was like, "No, this is what God wants us to do." So we picked up and we actually ended up in Aurora on Christmas Eve of 2009. We moved in not far from the house that I grew up in, and we just started meeting with people and talking with people and used Facebook like crazy about just developing relationships and reaching out into the community about who we are and what we were about to do. We did monthly gatherings for six months leading up to launch. We immediately started into community groups.
Scott Bloyer, Lead Pastor, Elevation Church, Aurora, Colo., launched Oct. 10, 2010, with 227 attendees. Current attendance: 200
Damian Boyd: I called around to people I had known who either were in the church planting realm, people who had planted churches, understood what was happening with church planting, and I leaned on smarter minds than myself to get some wisdom as to where I was going. Then I started gathering some amazing people. There were some people I served in ministry with for years, who I discipled for a long time. I assumed they would come along with me, and they didn't. Then there were other people who I never would have imagined would have said, "Yeah, I'm down for that kind of journey. And I've seen your life, and I've seen your ministry over the years, and I would love to be a part." So I started just telling my story to whoever would hear it. I started to see that people started coming. I think our initial launch team was around 15 people.
We started praying and discipling the team, teaching, praying, talking about the church planting journey. Then, outside of that, I started going on a hunt for church planting networks. Todd Wilson with the Exponential Network looked at where we stood theologically and what type of model we were looking to do. I took the ELI church planting assessment. He looked at that and said, "OK, these are the types of church planting networks that are going to be good for you." We needed to be a part of a network that would fund. We needed to be part of a network that would disciple. And part of a network that would believe in us. We decided to go with Launch Network.
I moved very intentionally and very slowly. About a year before we officially had our first preview service, we started meeting with the team and meeting with the people, praying with them, journeying through the Bible with them. We didn't want to do it way too fast.
My wife and I are indigenous leadership in the community where we're planting. We both graduated from schools in the community. We are intentional in reaching out to the college students and the surrounding community in downtown Atlanta. It didn't take us as long to build credibility in the community. Once we made sure we were kind of solid, then we started our preview services. We did two. What we also did, which is a key for urban church planting, we served the community.
Damian Boyd, Pastor, Vertical Church, Atlanta, launched Feb. 12, 2012, with 100 attendees. Current attendance: 50 to 100
Aaron Graham: We began meeting in our home to worship and cast vision with a core team in April of 2010. We started with a group of 12 people who were not currently attending a church. In fact, they had all given up on church at some point. We had all moved to D.C. to change the world but were miserable because we didn't have any community, much less Christ-centered community. We began to meet in our home, and it was during this time that we began to discern and pray through what God was calling us to here in the city. We came up with our name, vision, mission and values. We began to worship and study the Bible together regularly. We did not do any preview services leading into our first public gathering.
Aaron Graham, Lead Pastor, The District Church, Washington, D.C., launched Sept. 18, 2010, with 50 attendees. Current attendance: 280
Ken Hubbard: I had been a part of a denominational church organization for 25 years, and I just felt like I wanted to get out of a box and get into something to expand my horizons a little bit. We had previously been in the Michigan area for most of our ministry, but at the time we decided to plant, we were living in Seattle. We were actually watching the Super Bowl, and a commercial came on with Eminem talking about Detroit as a city that was tough and had been through a lot of things and was rebuilding, and that was kind of what sparked our desire to come back to Michigan and plant in this area. That's not a real superspiritual thing, but that's what happened.
We used Facebook right away. We bought some ads on Facebook. And then with some relationships, we just kind of asked, "Are you interested in starting a church?" We wanted to get a launch team of about 50 people before we actually started, and we came pretty close to that.
Ken Hubbard, Pastor, New Generations Church, Canton, Mich., launched Oct. 2, 2011, with 263 attendees. Current attendance: 130
James Johnson-Hill: I was associate pastor at Agape Church in San Luis Obispo, Calif. I have family here in Laurel, Miss., and Jones County. I got to just a transitional place in my life, and I had pretty much progressed as far as I could go as far as the organization of our church. I think that my senior pastor had always known that one of the two of us would transition out one day. It was clear in 2009 that this was the time and our church was very, very supportive in helping me launch. I chose Laurel, or this area, because I had a connection here.
My great-grandfather was a sharecropper here, and I just felt like I was coming back here to finish something that started way before I was born. That's the only way I can describe it. It's just an internal draw. My heart went out to this place, and so that's how we decided to plant.
My senior pastor sent me a website link to ARC [Association of Related Churches]. In reality, you can pray all you want, but it takes financial resources to plant a church. And ARC seemed to have a great plan for helping with that. Then, ARC goes and surprises you with incredible training.
A friend of mine from another church and I had built a college ministry for four years [in San Luis Obispo], and it had grown to about a hundred college students on Sunday nights. A lot of my launch team came from them. I said, "If you come, I'll give you housing for two years for basically a five to 10-hour-a-week commitment." Eight came in the first wave, and then six months later, four other ones came, and then one other young lady moved out here recently. It was amazing.
We had two preview services. It was huge in us seeing the gaps. You can plan all you want, but there are some things that are just going to come up that you're just not going to see, whether it's related to your facility or a gap you just didn't know would exist. The preview services were really huge, so that when we did launch, it really did just help us feel like we didn't totally mess up.
James Johnson-Hill, Lead Pastor, Agape Church, Laurel, Miss., launched April 4, 2010 (Easter), with 55 attendees. Current attendance: 100
Matt Miller: New City was a plant of three churches from three denominations (Southern Baptist Convention, Bible Church and Christian Church).There were 140 people on New City's launch team. One of our sending churches, Westside Family Church, is very large and gave me the opportunity to teach on the weekend three times. Each time I spoke, I was encouraged to ask Westside's congregation to leave Westside and help start New City Church. I started building my launch team in June 2011 for a Jan. 8, 2012, launch. New City held biweekly launch team gatherings on Sunday mornings, starting in September 2011. In December 2011, we went weekly with four preview services. Our launch team gatherings were important because I was able to create the culture for New City. Our preview services were important because we were able to gain momentum before we launched. We baptized five people during "launch phase."
Matt Miller, Lead Pastor, New City Church, Shawnee, Kan., launched Jan. 8, 2012, with 322 attendees. Current attendance: 220
Aaron Monts: In our prelaunch phase, we had gathered 40 people over the course of 12 months. We conducted four preview services, however they didn't do very much for us in terms of gaining more people in our community. We did them on an every-other-week basis. Perhaps if we had spread them out (like other churches in our city have since) we would have gained a bit more momentum from them. We did utilize them to communicate our core values to our team members once again, and that became helpful for creating culture within our church.
Aaron Monts, Lead Pastor, Ikon Christian Community, San Francisco, launched Oct. 11, 2009, with 90 attendees. Current attendance: 75
How and why did you decide on the date for your launch service?
Andrew: Our training with the [Association of Related Churches] had highlighted the two key windows in a year for successful launches—January /February and September/October. We chose Jan. 23 because we wanted a few weeks after the New Year to refocus our team and spread the word about launch Sunday. January is a time of year when many people are already rethinking their lives and priorities and often looking to make changes, so there's a natural momentum that comes with that season.
Bloyer: Part of it was I had seen there were a lot of churches using that date [10-10-10] because it was cool. But we also are a partner church with Stadia, and Stadia had a bunch of churches doing that. Perry Noble [senior pastor of NewSpring Church in Anderson, S.C.] came through Denver, and one of the guys on our team tweeted him and said, "Hey, if you're willing to hang out, we'll take you out to dinner." I kept saying, "We don't have enough people; we don't have enough money." Pastor Perry got in my grill and said, "You've got to pick a date. Suck it up and pick a date." And so that's how we came to the point where I said, "OK, 10-10-10, that's it. We're going to just do that."
Boyd: We decided Feb. 12, 2012, and there was no rhyme or reason. It just felt right. Sometimes, you know, here's the reality. Sometimes in Christian circles we can overspiritualize some things. But the reality is it just felt right. We felt February would be far enough away from the kind of pivotal New Year's Eve and Christmas holidays. And also it gave us some time that we thought we could actually pull off an official launch. It was a strategic move, but it was more following and kind of discerning what was necessary more than any grand spiritual decision.
Graham: We had outgrown our home. We had about 30 or more people coming each week by the middle of the summer. We knew we needed a bigger space, but we were not ready for a full launch. So we called it a "soft launch" and moved into a local charter school on Sept. 18, 2010.
Hubbard: In Michigan, we knew that if we didn't get planted in the fall, then it would be the spring of the following year. And we really didn't want to wait. It would almost delay us six months just because we didn't feel like it would be prudent to launch during cold weather. We felt like fall was a great time because people are starting to get back in the routines of life; vacations are over; kids are starting to get back into school; they're kind of looking for some kind of normal routine again.
Johnson-Hill: The launch, was Easter Sunday 2010. During ARC advanced training, you're kind of given guidance on some good dates to start. You're taught launching during the summer is probably not the best thing in the world. Church attendance goes down and you're sporadic in people's attendance. We chose Easter. We're here in the deep South, so there is a real connection to Easter. People that may have left the church or don't feel right about going back to another church, we felt like that was a good time for where we were. We're a new church with a Greek name—Agape—so you're already like semi-cult status in the South with that, so to start on Easter Sunday kind of gave us a little credibility. Kind of, we weren't weird. At least we're starting on Easter. There's some sort of Jesus element to it. That's what the public's thinking. That was big for us. We moved here in January of that year. We knew our ministry would be and continues to be relational, so we didn't worry just about launching the church. We needed to have time to build relationships in the community, to get to know other pastors, to really start to serve the community before we ever launched the church, so that gave us four months to really do that.
Miller: We came across a permanent space opportunity that pushed our launch back from October 2011 to January 2012. We spent July to November 2011 restoring an abandoned movie theater. It was a risk starting a new church in Kansas City in January because of the weather, but we were blessed and had a no weather issues. The reason we took the risk is because our people were ready to start the church. Waiting for a Super Bowl weekend launch or Easter launch would have cost New City valuable momentum.
Monts: Summer in San Francisco doesn't hit until September and October. So we chose mid-October as a date in the hopes that it would be early enough before the Christmas season and give us enough time to gain a bit of mass before the new year.