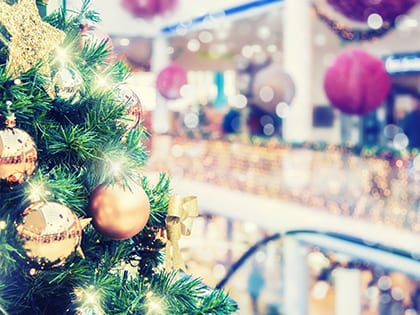 Fewer and Fewer Americans Believe That the Biblical Account of Jesus's Birth Reflects Actual Events. And This Is an Opportunity.
If you read the news online, you know that Christmastime headlines often draw attention to the supposed "war on Christmas"—issues like the latest Starbucks holiday-themed cup and whether or not the department store bell-ringer says, "Merry Christmas" or "Happy Holidays." Yet, the most important aspect of the holiday for Christians—the belief in the birth of our Savior—is dwindling away for many Americans. According to the latest Pew Research study, fewer and fewer Americans believe that the biblical account of Jesus' birth reflects actual events, and only half will attend church on Christmas.
The study, which asked participants about the various religious aspects of Christmas, showed that 66 percent of Americans believe Jesus was born to a virgin, which is down from 73 percent in 2014. And the number of people who believe that the wise men, guided by a star, brought Jesus gifts was also down from 75 percent to 68 percent. Not only that, but belief in the Christmas story is declining among both "nones" and Christians alike.
But when participants were asked if they perceived that the religious aspects of the holiday were emphasized less in society, only about one-third responded that they were bothered by the trend. None of this should be a surprise, however. This downward trend has been taking place for decades, and the commercialism of Santa and his elves have long-ruled the holiday. So if things continue as they have been, this opens up a very important opportunity for Christians to share their faith with an unbelieving society during Christmastime.
Ed Stetzer, executive director of the Billy Graham Center at Wheaton College told USA Today, "As fewer people celebrate Christmas without knowing the story of Christ, we have the opportunity to tell them why Jesus came, why he lived and died and ultimately that he rose again—changing everything for Christians, not just one day."
And what's encouraging is that even though the majority is shrinking, it's still the majority, with 57 percent of people believing all four elements of the Christmas story: that Jesus was born to a virgin, he was laid in a manger, the wise men brought him gifts and an angel announced his birth to shepherds. And while this number is down from 65 percent in 2014, it still reflects a nation that is open to believing in the miraculous.
So as we finish our holiday preparations this year, and we spend time with our family, friends and neighbors, we are reminded that it is even more important to focus on the true meaning of "keeping Christ in Christmas" by delivering the message of Jesus to those we meet, with small, intentional interactions—perhaps through outreach programs, encouraging conversations and invitations to our homes and churches—and to spend less time worrying about whether or not they wish us a "Merry Christmas."