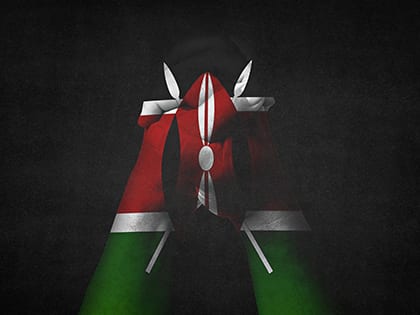 "Jesus never saw his ministry as just a spiritual ministry. He was very concerned about people's hunger. Their poverty."
Do you ever wonder what happens later on in the life of the child you sponsor through ministries like World Vision or Compassion? Every once in awhile, I'm privileged to find out the rest of the story. This summer in Nairobi, I met a former sponsored child, Jackson Ole Sapit. Make that the Most Reverend Jackson Ole Sapit, Archbishop of Kenya—head of the 5 million-member Anglican Church.
Jackson, 53, delights in telling visitors how God captured his heart and took him on a journey from the Maasai cattle pastures of his youth to graduate from school in the United Kingdom and back to hold one of the most influential religious roles in Kenya.
It's fascinating to hear how God used every twist and turn to shape him into the leader he is today. The lessons that emerge from his experiences are surprisingly applicable to pastors anywhere, even here in the U.S.
Before I pass on his pastoral advice, here's a quick sketch of Jackson's story. Born in 1964 to a polygamous Maasai family—his mother was the seventh of 11 wives—Jackson grew up in poverty and without his father, who died when he was 4. When World Vision arrived in his community, he was immediately sponsored. At the outset, he received a school uniform, his first-ever pair of shoes, and food aid that sustained his family during a severe drought. Little did he know then how deep and far-reaching his sponsor's impact would be.
First exposed to Christianity through missionaries, Jackson attended a World Vision Christian camp where he heard the gospel. He was born again in dramatic fashion a few years later, during one of his lowest moments. Relatives had appropriated his mother's land, and he had to work as a cattle trader to support her instead of continuing his education. Reflecting on his troubles, he remembered Jesus' words in Matthew 11: 28: "Come to me, all you who are weary and burdened, and I will give you rest." He prayed, and the landscape around him lit up with a blinding light.
Jackson's faith set him on a new path. No more cattle trading—now he would be a shepherd of God's flock. After theological college, he became the first Maasai Anglican priest in the Trans Mara District. He became interested in development work that Tearfund was doing in the area, convincing him of the need to do more than minister to people's souls but also improve their lives. He went on to earn a master's degree from the University of Reading in England in social development.
Jackson never sought out the promotions that followed, culminating in being elected archbishop. Sometimes he actually struggled against them. "God has a way of taking you like Jonah," he says. And like Jonah, he eventually obeyed.
As we talked over lunch in Nairobi, I was struck by Jackson's insights about leadership.
1. Lead with grace, not fear.
Jackson's humility has sometimes seemed ill-suited for traditional church leadership. His wife once said, "He will never know how to be a bishop. He is always equal with his staff. No one will fear him."
But his servant-leader style has worked well for him. "I've never been that leader that everybody should run away from," he says. He eschews the formality that normally surrounds an archbishop, inviting people to be natural around him. He believes that people should be allowed to make mistakes, because it helps them grow.
2. Pursue the whole ministry of Jesus.
"Jesus never saw his ministry as just a spiritual ministry," the archbishop explains. "He was very concerned about people's daily lives. Their hunger. Their poverty."
Jackson points to Matthew 25 as the basis for churches to pursue a transformational ministry, one that preaches the good news but also focuses on quality of life and the work of the kingdom. "Jesus never only pointed us to the cross as the end without pointing to how to live here," he says.
3. Focus on children.
"In 50 years they will be at the helm of the church," Jackson says. "When you empower children, you have a society for tomorrow."
This is a principle borne out of his own experience, as sponsorship gave him access to education and everything that flowed from it. To ensure children have the right building blocks to be moral leaders, Jackson encourages Kenyan churches to invest in strong Sunday school curricula, and he lobbies the government to retain religious instruction in primary schools.
4. Use your influence to stand up for justice.
"The church should be a prophet and a shepherd—to forewarn and to shepherd," he says.
He encourages church leaders to speak out about what is wrong in their community and country, to work for reconciliation and justice. He's been a rigorous advocate for peace since ethnic violence erupted around Kenya's presidential elections in 2008. And alongside other African church leaders, he confronted President Salva Kiir of South Sudan, who reigns over a country torn by civil war. "You were the pride of Africa, but you have dashed those hopes," they boldly told Kiir, and pressed him to take steps toward lasting peace.
Archbishop Jackson Ole Sapit is a vibrant example of God changing the trajectory of a person's life from poverty and helplessness to powerful witness and influence. But don't miss the small but significant part we can play in that transformation—the privilege of giving a child halfway across the world the chance to live out his purpose in God's kingdom.
Rich Stearns (@richstearns) is the president of World Vision U.S. and the author of four books, including The Hole in Our Gospel and Unfinished.