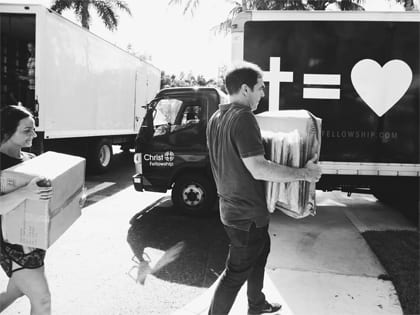 Christ Fellowship Church in Palm Beach Gardens, Florida, readies its nine locations for hurricane relief.
As millions of South Florida residents prepare for the imminent impact of Hurricane Irma—which has already devastated several Caribbean islands and will be the second major hurricane to make landfall in the U.S. in less than two weeks—one of the nation's largest churches is getting ready to meet critical needs in the community.
"I'm not sure that anything can prepare you for a storm this big," says Todd Mullins, lead pastor of Christ Fellowship Church in Palm Beach Gardens, Florida. Christ Fellowship (an Outreach 100 church—No. 43 Fastest-Growing and No. 7 Largest) has a weekly attendance of more than 26,000 people across nine locations.
Mullins says the church began the process of boarding up their facilities on Wednesday. "We have seven of our campus locations that are in permanent facilities, as well as several auxiliary buildings for ministry," he says. "Our staff and volunteers came together for two full days to board up the buildings, move technical gear into safer locations and secure outdoor furnishings and objects."
South Florida residents are used to hurricane preparation, Mullins says. "Each time [there is a hurricane], we learn ways to be more efficient and effective to meet the needs of people," he says.
[Related: Houston's First Baptist Church responds to Hurricane Harvey]
None of the church's facilities are rated to serve as hurricane shelters, but each location will be ready to help as soon as Irma has passed.
"We are using our campus locations as the meeting and staging locations to support our community," Mullins says, adding that Christ Fellowship's volunteers are ready. "We will be gathering at our churches to go into the neighborhoods surrounding each campus and help the people there."
Volunteers can sign up to serve on the church's website, and the church is already organizing teams into three groups at each campus location: church facilities (to prepare each facility to use as a base); surrounding neighborhoods; and city partnerships.
Each of the church's campus pastors has been meeting with local officials and offering assistance.
"Many of the shelters need volunteers to serve thousands of people seeking shelter," Mullins says. "We are also letting them know that we are bringing truckloads of water and supplies through various Christian organizations and stand ready to assist them with meeting those basic needs." Mullins says the organizations they are partnering with for post-hurricane relief efforts include Gleaning For The World, Convoy of Hope and CitiImpact.
How does Mullins plan to ride out the storm? "In the 40 years I've lived in South Florida, we've never left because of a storm," he says. "My dad—being a church planter—has planted in our hearts that we need to be here for the people after the storm passes. So we've gotten our house prepared, and we will have a few families from the church stay with us."
Mullins is asking the entire body of Christ to pray. "[Pray] that God will use this storm—regardless of the outcome—for his glory and his purposes in people's lives," he says.
Secondly, he urges Christians to pray that this storm "will remind people that life is fragile—and that this isn't all there is. Sometimes people live like we are invincible, when the truth is, 'life is a vapor.' I'm praying that the seriousness of this storm will cause people to have a revelation of that truth and be drawn to knowing God in a personal way."
Finally, if Hurricane Irma hits Florida with the force that scientists are predicting, Mullins says, "There are going to be so many people to take care of. We learned from churches in the Houston area that financial support was really the biggest need they had. The second-biggest need was qualified volunteers coming to help with rebuilding. Both of those are going to be critical in the days ahead."
Check back next week for a post-hurricane update from Mullins and Christ Fellowship about the situation in South Florida. For more about Christ Fellowship, go to GoChristFellowship.com and follow them on Facebook and Twitter.
In addition to churches like Christ Fellowship, there are several worthy organizations you can partner with to assist in Hurricanes Irma and Harvey relief efforts. Here are a few of them:
Jeff Chaves is a freelance writer and pastor. He has been married to Peggy for more than 32 years, and they have four children. He is the pastor of Northpointe Community Church in Las Vegas, Nevada.