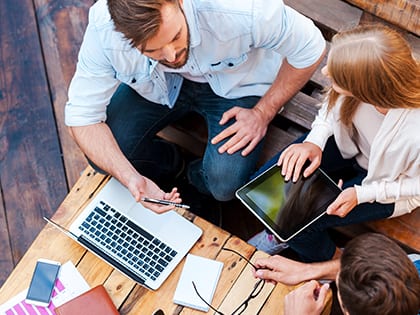 "There was a time when education for some meant moving and uprooting their family. Today, none of that is necessary."
How are seminaries preparing students for effective, transformative ministry in an ever-changing culture? In this series, we interviewed seminary leaders from across North America to get their first-hand take on what's trending in seminary education.
What changes has your school made in response to changes in the church and the culture at large?
LEROY GOERTZEN, Doctor of Ministry Director, Corban University: One of Corban's strengths is its nimble response to cultural change. We are not driven by tradition and not paralyzed by institutional hardwiring. Our greatest response has been through the sponsorship of a steady stream of conferences and seminars, both on campus and off, that address significant cultural shifts related to gender, sexual identity, racial integration, cultural sensitivity, etc. Faculty and staff are required to take an extensive battery of tests related to cultural intelligence, including matters of ethnic diversity and multiculturalism.
KEITH S. WHITFIELD, Dean of Graduate Studies, Southeastern Baptist Theological Seminary: We've developed a mentored master's in Christian ministry through which a student can obtain a degree from Southeastern while remaining in their local ministry context and under the mentorship of a local church leader. We have also developed fully online degree programs and programs that allow us to partner with local churches for training. Both of these delivery methods allow our students to receive theological training while serving in ministry locations around the world.
Two years ago, we revised our graduate programs to help Southeastern accomplish its mission as well as address the needs of today's seminary students. For the M.Div. and vocational MA degrees, we revised the core requirements, ensuring a stronger biblical, theological and practical foundation for ministry preparation. In the revision process, our M.Div. was shortened by 9 hours.
SAMUEL THORPE, Interim Dean, College of Theology and Ministry, Oral Roberts University: Three theological degrees and several others in nontheological fields are offered online. Our counseling master's degrees and our M.Div. (master of divinity) use blended courses (modular on-campus plus online elements) as well as fully modular programs that include the D.Min. (doctor of ministry) degree. All recognize the mobile nature of society as well as the emphasis on technology and accommodation of adult workloads.
ED HINDSON, Dean, School of Divinity, Liberty University: There was a time when education for some meant moving, resigning from a ministry position and uprooting their family. Today, none of that is necessary as people can receive their ministry training while remaining in their faith and community contexts. One thing we have focused on is making education more accessible. We are proud to be able to offer fully online degrees from the associates level all the way up to doctoral programs. Our new Ed.D. in Christian leadership can be accomplished fully online.
SHAWN C. BRANCH, Former National Director, Threshold School of Ministry: Our school is in its second year of operation and was formed as a result of recognizing the reality that church leaders need to be better equipped for ministry in 21st-century North America. We also recognize that people learn through different methodologies and not everyone can thrive in a traditional seminary context. Our programs provide students with the ability to learn, practice and reflect at the same time while they are being formed for ministry. Our courses are taught through modules on site with instructors who are academic practitioners.
CLINTON E. ARNOLD, Dean, Talbot School of Theology:: Talbot has been a late adopter of online learning. Part of the reason for this is the high value we place on the development of personal relationships and the spiritual-formation process. For us, these are nonnegotiables of high-quality theological education. In the past five years, we have been working hard at designing online theological education that puts a priority on these two key elements.
This fall, for the first time, Talbot will offer an array of fully online degree programs, including a bachelor of science in biblical ministries and a master's with concentrations in Bible exposition, New Testament and theology. We are also offering half of our M.Div. (master of divinity) program online.
We are engaged in comprehensive process of evaluating our curriculum to reduce the overall cost of our degrees and to shorten the time to completion. As a result, we have reduced the total unit count of our M.Div. program from 96 semester units to 79, and most of our master's programs from 64 units to 49.
KURT N. FREDRICKSON, Associate Dean, Fuller Theological Seminary: A changing world demands a changing church that continues to form people and congregations into the image of Christ and addresses key issues that they face.
The big change regarding delivery of content is the move toward online learning. This allows students to get a Fuller education without leaving their ministry context or where they live. It is a huge shift that is changing the face of theological education.
BOB WHITESEL, former professor at Wesley Seminary: Wesley Seminary is probably one of the fastest-growing, fully accredited seminaries in North America, and that is because we began with an innovation mindset. They use a cohort-based model spread across some of the 14 campuses owned by Indiana Wesleyan University. Then, Wesley added online versions of all of its programs.
WILLIAM D. SHIELL, President, Northern Seminary: We have degree programs offered through livestreaming technology, both designed to allow pastors to stay in their contexts, go deeper in biblical training and address the challenges of their communities.
Read about more trends in seminary education: