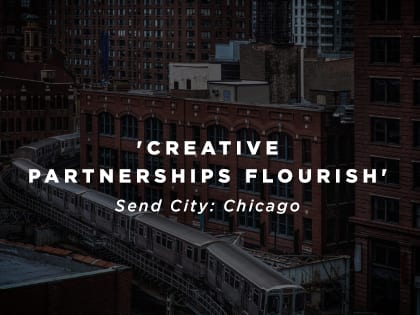 "People don't feel territorial here. We have a big and tough mission field and we understand we all need each other."
This story is part of our series Chicago! Breath of Life in the Windy City, a detailed look at the astonishing work God is doing to multiply the effort of church planters and church-planting networks in Chicago.
In his oversight of vision and strategy for Send City: Chicago, Chris Wright sees a wave of creative collaboration between church-planting networks rising.
"People don't feel territorial here," says Wright. "We have a big and tough mission field and we understand we all need each other. Creative partnerships flourish."
Wright says networks and relationships frequently come together for prayer and strategy.
Pray Chicago, for example, exists to rally the diverse body of Christ to prayerful engagement of all 77 communities of Chicago for the advancement of God's kingdom. Bringing people together across denominations and church-planting networks, they pray for new church plants.
"All mission is rooted in prayer," Wright says. "If you ask any successful church planter in Chicago the secret to making an impact, he's going to tell you people have been praying like crazy. Collaboration in prayer has not just been prayer. It's been big prayer. We are asking to see something that we have never experienced before in the city."
Collaboration between church-planting networks also leads to more creative training, strategy, outreach and effectiveness.
As one example of creative collaboration, Wright points to the relationship between the Chicago Partnership for Church Planting (CPCP) and City to City (CTC), a network started by New York City pastor Tim Keller with 400 churches planted globally.
CTC is currently focused on helping leaders activate church-planting movements in Miami, Los Angeles, San Francisco and Chicago.
Started in 2000 by Jon Dennis (see Page 87), CPCP was in a strategic position to partner with CTC in its Chicago initiative. Working together made perfect sense. City to City brought respected content, coaching and time-tested material along with the flexibility to work it out in your own city. CPCP brought a history of collaborative church planting in Chicago.
In one specific example of their partnership, CPCP hosted a "Train the Trainer" event in 2016. Led by Mark Reynolds and John Thomas, both from CTC, 14 Chicago urban church planters were introduced to the Incubator curriculum, a two-year training course. From various denominations, the church planters were united over mission and love for their city. They went back to the city as a learning community and as a network ready to work together.
In the ever-multiplying stories of such collaboration, Wright feels confident a movement of God will sweep the city.
"Because of working and praying together, we have a sense that something is afoot. We are not there yet, but there are pieces in place," says Wright. "It's been a long time coming. I wake up most mornings and read the newspaper and go, 'Oh my God, there's been another child shot.' It's such a dark place.
"But I'm a big believer that the light is greater than the darkness and in every neighborhood of Chicago the gospel is going out. We get to see people leave the darkness and come into the light. There is hope. I think there is a renewed optimism about what God is doing here and how he is mobilizing the church to do it."
Additional Chicago Church-Planting Stories: