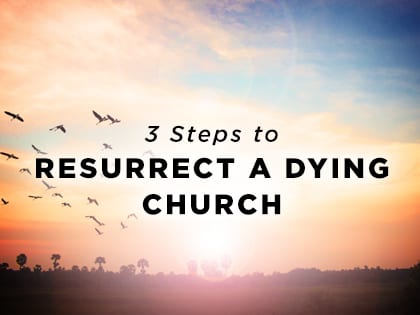 "If you focus on growth before depth, you'll be tempted to adopt gimmicks, quick fixes and copycat tactics."
Before I came to my current church, they had been on a 15-year plateau followed by a near-death experience due to a leadership conflict. What was left was a building with about 100 seats, four Sunday school rooms and an average attendance of about 35. It was a real fixer-upper if you know what I mean.
I started as a bivocational pastor, which they really liked since they couldn't actually afford a full-time pastor. I had a head full of dreams and a heart burning to make a difference. The only things I lacked were skill and knowledge!
Ours is not a story of overnight success. We didn't rocket to thousands by dressing cool and throwing in a band. We were a very traditional congregation that longed to see God come to life in our church. The only problem was, we didn't know how to do this.
As I reflect back and try to understand how our church was transformed, I never land on any specific programs, strategies or methods that were the secret. I have found that it was a culmination of several factors over time. For what it's worth, here are a few of my suggestions for resurrecting a plateaued or dying church.
1. Renew your first love.
One of the very first things I did was to gather the core couples together on a weekend retreat. We went to a small bed-and-breakfast, and there we simply dreamed, prayed and bound our hearts together. I remember that Saturday morning as we talked about reaching new people, with tears in my eyes, saying, "Guys, I have no idea how we will reach them, but if we will focus on the what, God will show us the how."
2. Rediscover the purposes of the church.
The second thing I did: I loaded up a van with my core leaders (there were about 12 of us) and took them to a one-day seminar on The Purpose Driven Church by Rick Warren. We felt like we were drinking from a fire hydrant, but at least the water was refreshing! We huddled up right after the seminar, and I told them, "I don't know how to do everything we just heard in that seminar, but I'm willing to give my life to learn it. Who's with me?" They unanimously agreed to do whatever it takes to become a healthy, outreach-oriented church.
Churches plateau and decline due to missional drift. No church ever drifted that kept the main thing the main thing. In order to get your church moving in the right direction, you need to figure out which direction to go!
[Nine changes dying churches must make immediately]
Too often, plateaued churches focus on growing the church numerically before they correct the drift philosophically. If you focus on growth before depth, you'll be tempted to adopt gimmicks, quick fixes and copycat tactics. Don't change anything until your core leaders are thoroughly committed to the biblical purposes of the church. "Many are the plans in a person's heart, but it is the LORD's purpose that prevails" (Prov. 19:21).
3. Reassess your target.
Our church was hidden in the woods at the end of a dead-end road completely surrounded by an upper-income housing development. Our congregation was comprised of medium-income families. We tried for months to reach the families in the homes surrounding our church. It was a complete failure.
Finally, we decided to try reaching people like us. We learned the hard way that you reach who you are, not who you want. The good news is that when you decide to become laser-focused on your target, you get better at reaching them. We finally put a stake in the ground and declared that we would focus on reaching middle-income young families with children.
Fourteen years and 1,300 baptisms later, God has truly transformed our church. We are not a megachurch, and we are certainly not the coolest church, but we are a healthy church. Our passion is to share what so many have shared with us over the years.
Brian Moss is the senior pastor of Oak Ridge Baptist Church in Salisbury, Maryland. He blogs at Next Level Leadership.