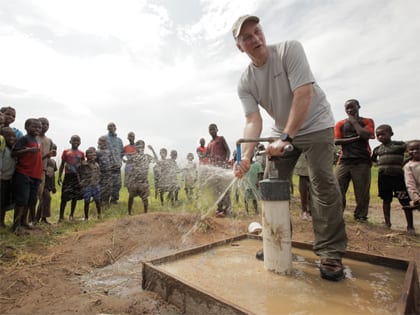 Organization provides the means for clean drinking water to areas of the world where it's most scarce.
Walking down a dusty footpath under the hot Africa sun, from a distance, you might hear the noise of clanging metal and squeaking pulleys—and the sounds of joyful singing. As you get closer to the village, you see that water is streaming down the trail you're on. Then, you round the corner and you see people of all generations dancing around a construction area. Men in coveralls and hard hats are shouting over the singing. And a 100-foot well, filled with life-giving water, is now being equipped with a pump that will bring it to the surface.
This village is experiencing something unheard of in their region: a water well in a small community, drilled and installed by people from their own country. This is happening all over Africa with the help of an organization called Water4. The goal of the organization is to place wells where they're needed most and, as stated in their literature, "leave behind a growing, self-sustaining, missional Christian social enterprise."
A Calling for the World's Greatest Need
Jim Stewart, who heads up partner development for Water4, says the organization was formed by a whole series of "God-ordained appointments."
The company started with a divine call to Richard and Terri Greenly of Tulsa, Oklahoma. The Greenlys own a company called Pumps of Oklahoma, a wholesale distributor and manufacturer of water-well drilling, pumping and water-treatment equipment, mainly for the oil-production industry.
One day in 2005, Richard was in a business meeting with a man who had just returned from a mission trip. Richard commented that he would love to go on a mission trip some day. According to Stewart, Richard's associate "looked Richard square in the eye and said, 'You're on! Let's go to China in three months.' That was an interesting start to changing a heart."
Several months later, when Richard returned to the U.S., he knew that he had to do something.
Soon after, Richard attended a leadership conference hosted by Bill Hybels, and he was challenged again. Richard felt deep in his heart that he was being called to get clean water to people around the world, to those who needed it most, and he shared this with Hybels.
In 2007, Hybels mentioned Greenly and his calling during an Easter message, leading to a large donation from the congregation. According to Steward, "The Chicago church [Willow Creek] asked, 'Where do you want us to send the check?' and Richard said, 'Why don't you hold onto it and we'll take a trip?'"
On this trip, to a village in Zambia called Samfya, the Greenlys discovered the need for a small hand pump that could lift water from 100 feet or less. It had to be a simple design that could be operated even by a child, as well as be made from raw materials that would cost less than $50. They knew a pump like this could change the world for the 1 in 10 people on earth who lack access to clean water.
Richard reach out to all of his sources and found that a pump like this did not exist—so they decided to invent one. Richard called Steve Stewart, a friend from high school who was an engineer and inventor, and gave him the challenge.
Jim Stewart (who is Steve's brother) says, "Steve spent three months and invented a water pump that has now gone to 31 different countries. These wells are going in practically every day."
The Hard Lessons
Since that time, Water4 has learned a lot about bringing a fresh water supply to an indigenous community. "Charity does not work," Stewart says in a serious tone. "If you gift anybody anything, that don't own it quite like someone who had to work for it."
That's why the Water4 process involves much more than simply installing a well and
leaving.
Their model requires each village to contribute something to the process: a small fee for the installation and, often, being trained to dig and install the well themselves. One such group of men from Uganda has gone on to start its own successful drilling business called Young Men Drillers Co.
Richard and his team also learned that discipleship must come along with the wells and the training. Originally, they would simply train up diggers. Some of these men would become successful but still struggle with things like addiction and broken marriages.
"If their hearts aren't changed and discipled, then they become prodigal sons," Stewart says. "We tied in with a group called Contagious Disciple Making. We started [their process] with our groups of well drillers, who are now going into villages and telling Bible stories."
The driving mission of Water4 is to provide water wells and teach people about Jesus. They also teach sanitation and hygiene, and train drillers in biblical stewardship and leadership. They network with other organizations that are already at work in the region, like Bob Goff's Restore Leadership Academy in Uganda. When Water4 comes to a new location, they bring so much more than just a fresh water source.
Getting Involved
So how can churches support this movement? The first step is to go to Water4.org, where they specify ways to contribute and resources for groups start their own fundraisers.
One example is an initiative that one church youth group started. Students were encouraged to take pledges for how much water they could transport in an afternoon. On the date, they walked a mile with an empty 5-gallon bucket. The bucket was filled with water, and they had to walk a mile back—just like what many children have to do around the world. The students learned a life lesson while raising money.
Stewart says the organization tries to steer people away from traditional short-term mission trips. "It's not the best way to eradicate the water crisis," he says, adding that it's better to financially support a drill team that is already at work. Water4's process takes 12 weeks and is therefore not ideal for a short-term trip.
For more information about Water4, go to Water4.org or call 405-551-8214.
Jeff Chaves is a freelance writer and pastor. He has been married to Peggy for more than 32 years, and they have four children. He is the pastor of Northpointe Community Church in Las Vegas, Nevada.