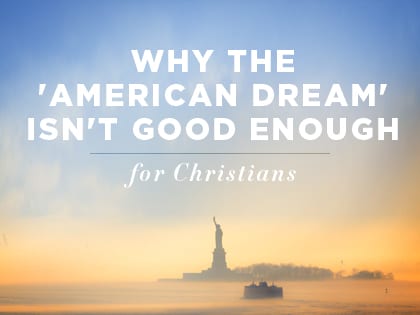 Rich Stearns: "The church in America is the wealthiest in history, and, like I was in 1998, perhaps too comfortable."
You may be surprised to hear that Mother Teresa wasn't always a saint.
Before she was the world-famous founder of the Missionaries of Charity—and long before being canonized by the Catholic Church on Sept. 4—Mother Teresa was a high school teacher. For 17 years, the Albanian nun taught geography and history at a Catholic school in Calcutta, India.
Then she felt called to serve in Calcutta's slums, but it wasn't clear how. One day, she came across a dying woman being bitten by rats on the street. Because of the woman's low caste, the hospital wouldn't admit her. Without Mother Teresa's intervention, the woman would have died alone, rejected and unloved.
It was Mother Teresa's defining moment. She devoted the rest of her life to demonstrating Christ's love to those who suffered around her, ensuring that whether they lived or died, they would do so with dignity.
Now that Mother Teresa is an official saint, you may think you have little in common with her. But you see, God uses quite ordinary people to change the world—people like you and me. God's world changers aren't particularly smarter, wealthier or more capable than the rest. They are people who, at a pivotal point in their lives, hear God's call to do something extraordinary. And how they answer defines their true character.
God uses a defining moment to get our attention. It stops us in our tracks and challenges our worldview. I believe the American church is in a defining moment right now. But first I'll tell you about one of the moments that changed my life.
It came in the form of a phone call.
In 1998, I was 47, the CEO of Lenox, and at the top of my corporate career and earning potential. My wife, Reneé, and I had five children, and we were living in Pennsylvania in a 200-year-old fieldstone farmhouse on five acres. After a childhood of poverty, I had achieved the American dream.
And then I got a call from an executive recruiter. He was looking for the next president of World Vision U.S., and for some reason, he thought the head of a fine-china company could be that person. I wasted no time in telling him that I was not qualified, not interested and not available, and I tried to get off the phone.
Undeterred, the recruiter asked me a question: "Rich, are you willing to be open to God's will for your life?"
What a terrible question! And not a simple one. He was asking if I was willing to enter the pain and suffering of the poor, willing to travel to garbage dumps where children scavenge for food, endure the stench of refugee camps and hold dying babies in my arms.
God was asking me that day to choose between the American dream and my true purpose of serving the poor. The answer defined me as the Christ follower I had promised to be, many years before, when I knelt in my graduate-school dorm room and vowed to obey God "no matter what."
Defining moments are not just for individuals. The church in America is the wealthiest in history, and, like I was in 1998, perhaps too comfortable. We may not want to be challenged by a crisis of the magnitude of the refugee crisis in Syria and Iraq, causing the suffering of nearly 17 million people—80 percent of them women, children and the elderly. But it is the greatest test of our time.
Seventeen million is a big number. Here's one way to wrap your mind around it. Imagine that every person in these American cities had to flee their homes with nothing but the clothes on the backs and the money in their pockets: San Diego, Dallas, San Jose, Albuquerque, Austin, Jacksonville, San Francisco, Indianapolis, Columbus, Fort Worth, Charlotte, Detroit, Denver, Washington, D.C., Pittsburgh, Boston, Nashville, Baltimore, Milwaukee, Atlanta, Orlando and Seattle.
I like to bring that big number down to one: a girl named Haya.
I met Haya in 2013 when she was 10 and living in a massive refugee camp in Jordan with her mother and sisters. In anticipation of my visit, she wrote me a letter, which she read aloud:
"Peace to you. I am talking to you on behalf of the Syrian children, calling on you—the people of the other world. Have you ever thought of the children of Syria? My country Syria? Syria is in pain, Syria is bleeding. Syria is crying for her children. Her children were her candles and they have faded out."
Haya's letter wasn't intended just for me. It was for all of us, the "people of the other world." Her question challenges us today: Have you ever thought of the children of Syria?
The way the American church responds to Haya's question will determine what becomes of an entire generation of Syrian children.
This is a defining moment for the authenticity of our faith and our relevance in the world. We have a remarkable opportunity to share the love of Christ in the heart of the Middle East as well as demonstrate to the world what we stand for: not fear, but compassion; not exclusion, but embrace; not politics, but people; not our own interests, but the interests of others.
Defining moments require courage and resolve. Changing the world isn't easy, and it doesn't come cheap. It requires something of us to enter into others' pain. And yet, what a tremendous privilege that God chooses us, ordinary as we are, to be his hands and feet in a hurting world!
Rich Stearns (@richstearns) is the president of World Vision U.S. and the author of four books, including The Hole in Our Gospel and Unfinished.