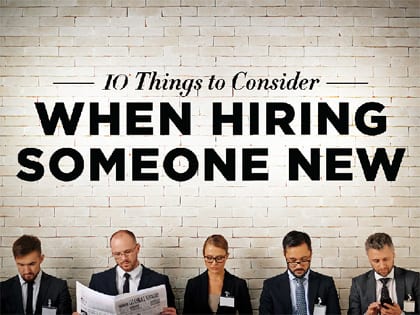 "Adding a new team member soon? Here are a few suggestions for making the process work more effectively."
Adding a new team member soon? Here are a few suggestions for making the process work more effectively and efficiently:
1. Hire slow and fire fast. Many organizations are just the opposite, hiring fast and firing slow. Don't rush the process.
2. Look for heart and hands, not just mind and spirit. Intellect is great, but grit and determination makes a difference over time.
3. Culture is key. As the leader, do you want to hang out with them? Hire people who you want to be your friends. This is a "should they be on the bus?" question—not necessarily which seat yet, but just gauging whether being on the bus is a good idea.
4. Don't just interview them, "intern" them. We implemented this system at Catalyst over the years, and most of our full-time hires were former interns.
5. Hire a doer, not just a talker. Lots of folks can wow you with their words. The question is, can they wow you with their actions?
6. Benchmark the experts. Who are the best people in the world at the position you are hiring? Figure out who that is, and contact them for advice, suggestions and to understand why they are so good at what they do. Learn from them and build a job description for your new hire from that.
7. Be wary of the "stepping stone" mentality. If you are another stop on the journey for someone, then look elsewhere. The reality is, people are transitioning all the time. But that shouldn't be their mindset going in when looking at a new role.
8. Get outside the box with your interview process. Don't just talk to them. Put them on a project, give them an assignment for an hour, have them do a scavenger hunt, make them pitch you on another person who is also interviewing, etc. Step out of your comfort zone, and make them step out, as well.
9. Create a "test" phase. Allow for 60 to 90 days of a trial run. Interning them is ideal for 6 months to a year, but at minimum put in a trial phase that allows both you and the prospective hire to hit the eject button if things aren't working out.
10. Do your homework. Administer personality tests, talk to their references, spend as much time as you can with them, allow other team members to interview them and do your research.
Brad Lomenick is a speaker, writer, leadership advisor and founder of Blinc Consulting. For more than 10 years, he served as president and key visionary of Catalyst, one of America's largest gatherings of young leaders.