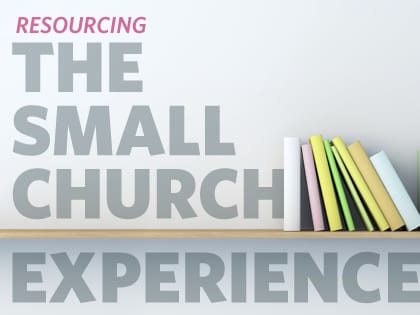 Perspective, Encouragement and Insight from Small Church America
Be Your Own Church
It is amazing to me that large churches try to mimic small churches by focusing on small group ministry, while smaller churches try to emulate large church programs. I think H. B. London said it best when he said, "Bloom where you are planted." Instead of trying to be what you are not, know what you do well and do it well. Too many pastors try to adapt to the new family who shows up on Sunday because they need the numbers. As a small church pastor, I know who we are as a church and what we do well. I do not excuse or apologize for who we are. I know what we do, why we do it, and how we do ministry. I try to find out what they need and then be honest with them about how we can minster to them. If we cannot meet their specific needs, then I help them find a church to meet their needs.
Jim Thomas, a small church pastor at Holly Springs Bible Fellowship in northwest Iowa. He frequently works with pastors of churches of less than 125 people in towns of less than 2,000, many in the Midwest. He writes at SmallChurch.com.
The Next Big Thing: Small
If small churches can provide opportunities for genuine relationships with God and each other, in a healthy church, with practical ministry to the surrounding community, we can be the vanguard of a new church movement. But it really won't be a new movement. It will be the oldest one of all. The main reason I'm convinced small churches will be the next big thing is because they've always been a big thing. Since the day of Pentecost, innovative small churches have been the way the majority of Christians have done church. They've just stayed under the radar for 2,000 years.
Karl Vaters, NewSmallChurch.com, is lead pastor of Cornerstone Christian Fellowship, Fountain Valley, Calif.
The Resurrected Church
Some people take a fatalistic view of existing churches. They would have us believe that it's too hard for small and dying churches to be resurrected and we should channel all our energy and resources into planting new ones. 'After all,' they say, 'it's easier to have a baby than to raise the dead.' Well, I'm all for church planting, but I also believe in resurrections. And while new babies are amazing, there is something utterly unique and awe-inspiring about a resurrection. If we change the soil, resurrections can happen. Languishing, struggling and dying churches can be turned around—brought back to life. They can even go places they've never gone before. But, it's not easy. It's a process, and it takes commitment.
Jim Powell in Dirt Matters: The Foundation for a Healthy, Vibrant and Effective Congregation (WestBow Press). Powell is the lead pastor at Richwoods Christian Church in Peoria, Ill., a large church, but he's also passionate about small churches. He runs the 95 Network, providing coaching, mentoring conferences and resources for the 95 percent of churches under 800 people in attendance.
Preferring Death to Change
So what did the deceased churches cling to? What did they refuse to let go of facing certain death?
Worship styles were certainly on the list. As were fixed orders of worship services. And times of worship services.
Some stubbornly held on to buildings and rooms, particularly if that room or building was a memorial, named for one of the members of the past.
Some would not accept any new pastor except the one pastor who served 30 years ago.
But more than any one item, these dying churches focused on their own needs instead of others. They looked inwardly instead of outwardly. Their highest priorities were the way they've always done it, and that which made them the most comfortable.
It was not just the past they revered. It was their personal good old days.
So, unlike the heroes of Hebrews 11 who held onto nothing of this life, these dying churches held onto everything, at least everything that made them comfortable and happy.
Such is the reason we speak of them in the past.
They were warned. They were facing certain death. They saw every sign.
But they preferred death to change.
And death is what they got.
Thom S. Rainer in Autopsy of a Deceased Church: 12 Ways to Keep Yours Alive (B&H Publishing Group). Rainer is a writer, researcher, speaker and the president and CEO of Lifeway Christian Resources. Used by permission. Excerpt taken from Autopsy of a Deceased Church by Thom S. Rainer. Copyright © 2014 B&H Publishing Group.