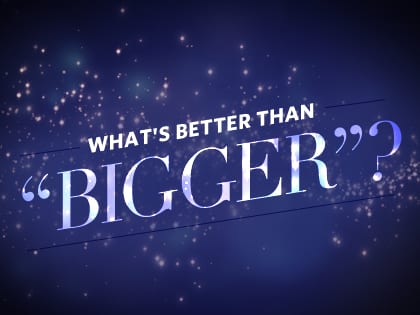 Bobby Gruenewald: "God showed us that if we spent our energy helping others, he would bring the increase."
"When have we forgotten that the church doesn't exist for us? We are the church and we exist for the world." —Erwin McManus
When we meet other church leaders, frequently we're humbled to hear them express gratitude for our church's generosity. I share that not to boast, but to point out the contrast with how we used to be known.
Early on, some who weren't a part of the church perceived it as a corporation and more focused on itself than others. This reputation came as a surprise to our team after we'd walked away from corporate careers so we could serve others through our calling in ministry.
We didn't realize it in the moment, but as we directed our focus to growing our church, we missed bringing intentionality to helping others outside our church. We were growing fast, and we didn't have a lot of resources. If something didn't affect our ministries or lead to growth, we didn't feel we had time to be involved in it. Though our narrow focus was rooted in evangelistic passion, we came across as solely concerned with becoming bigger and bigger.
The constraints we felt led to a scarcity mindset, and it extended to our relationships with other churches as well. We wanted to serve them, but we didn't feel we could spare the time. We were courteous and responded to what we could, but we didn't go out of our way.
In our community and within the global church, our heart was in the right place, but other people couldn't see it. We'd fallen into the same mental paradox that so many of us do. While we judged others by their actions, we hoped others would judge us by our intentions.
But thankfully God had better plans for us and was bringing together a confluence of events that would fundamentally change our church. And they all came together in one moment during January 2006, when our leadership team sat in a conference room weighing an important decision about our future.
A Fundamental Change
Leading up to this time, other churches were beginning to approach us and ask if they could buy our sermons and resources. It seemed like a waste to use them just once and then leave them gathering dust on a hard drive. We felt a growing burden to extend the use of these kingdom resources. Most of the churches we respected were making theirs available at a reasonable cost and investing the proceeds in further ministry.
In this season we were also in the deepest debt we'd ever experienced. Our church was growing fast, and it took considerable resources to support that growth. As fast as funds came in, they were spent. The much-needed income from selling our resources could strengthen and extend our ministry and, for that matter, help us create more resources.
And yet despite all that logic, we felt like God was asking us to do something counterintuitive—to release these resources for free. As God does with any story of significant change, he had been laying the groundwork to provide nudges along the way.
For years, we had been streaming video and making our entire archive of sermon videos viewable online. We saw a contradiction between making them free to watch online, but charging for the sermon transcript and video files.
We also knew technology was changing. Broadband penetration increased, and over the course of five years the number of people with high-speed Internet connections skyrocketed. People had already started transitioning their music from physical to digital files, and now downloading larger files was finally a reality.
If we were going to start a resource site from scratch, we wanted to lean toward the future, not the past. Downloading resource files was still a novel concept, but removing the cost of producing and mailing physical content created a new opportunity.
For the first time in history, it was technically possible to distribute content to a wide range of people all over the world at a minimal cost. If our burden was to have these resources help as many people as possible, wouldn't we want to remove as many obstacles as possible? Cost was often a barrier for teams who were stretched thin and even shorter on resources than we were.
So we sat in the room and weighed the risks of giving it all away. Would we look back on this as a poor stewardship decision? Would we be able to make it as a church without this extra income? Would people even be willing to acquire resources by downloading them? We couldn't be sure of the outcome, but we were sure of God's leading. On that day in January, we unanimously decided that our resources would be free.
Open and Free
We quickly began work on Open.Church, a site that has now provided 6.2 million free resources to 160,000 church leaders around the world.
That decision was the beginning of a drastic transformation for our church. God changed the hearts of the people in our church as they developed a passion for generosity. Our finances began to look very different, very quickly.
We went from barely paying the bills to doing things that would have seemed impossible before: investing significant resources in the Bible App, building facilities without capital campaigns or borrowing and devoting part of our budget to fund global missions partners. We were able to continue launching new sites and tools to support church leaders, like Church Online Platform, Church Metrics and Develop.me.
From Scarcity to Abundance
Our previous scarcity mindset switched to an abundance mindset. We began partnering with other organizations globally and in our community. We launched Network for churches that wanted to do a LifeChurch but not be a LifeChurch.
We also saw a shift in how others saw us. Both in our community and in the global church, our influence grew as we made good on our good intentions.
And that growth we'd been so protective of and striving so hard toward? It began to come more quickly than we could have imagined. God showed us that if we spent our energy helping others, he would bring the increase. We didn't have to trade one for the other.
We had no idea this one decision would bring about an entirely new way of thinking for our church. Instead of letting our intentions stand in for action, our actions went on to change our intentions. We gained an awareness of the power and potential of the church when it is freed from building only what happens inside a building. Now the DNA of our church is formed on a foundation of generosity.