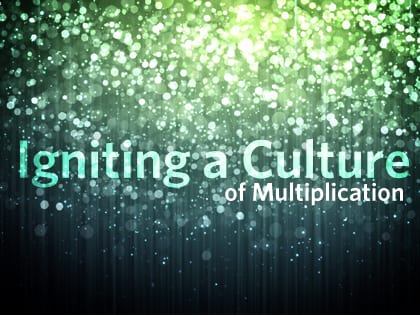 "Are you willing to plant your first church before building or buying your first building?"
What will it take to start and sustain a church planting movement in the United States? Exponential Director Todd Wilson shares why local churches need what he calls a "micro and macro multiplication" approach, plus a core conviction to reproduce.
"Think globally, act locally." That strategy has fueled my friend Rick Ruble's nearly perfect winning record at the board game Risk. I like to think of it as having a micro/macro strategy—a micro or local strategy close to home for adding the next one, and simultaneously a macro strategy for multiplying your impact beyond your local context. The macro strategy recognizes that the most powerful way to multiply is to plant new churches that become platforms for addition at the individual believer level.
Working together, these dynamics give us two of the primary tools we need for creating and sustaining a church planting movement—a healthy balance between addition and multiplication strategies. Movements multiply through addition, with one-on-one relationships offering the best context for adding disciples. The micro (or local) does the heavy lifting of adding while the macro (releasing and sending) gives the context for multiplying.
The Way of Jesus
You may be thinking, Show me the biblical basis for this addition (micro) and multiplication (macro) thinking.
The principles of this micro/macro strategy actually find their roots in Jesus' Great Commission to make disciples. Jesus handed down a model of personal discipleship and evangelism that is solidly addition growth. He commanded his disciples to "go and make disciples of all nations" (Matt. 28:19) and later, just before his ascension, said, "You will be my witnesses in Jerusalem, and in all Judea and Samaria, and to the ends of the earth" (Acts 1:8).
Jesus had spent three years discipling 12 men and modeling his micro strategy for increase, giving the disciples a powerful addition strategy for adding the "next one"—life-on-life discipleship living in community together. And then he activated his church as the basic context for addition.
Look at what Jesus did not say and what the disciples did not do as his witnesses. Jesus did not say, "Stay in Jerusalem and build an ever-bigger church." Nor did he say, "Focus most of your energy on accumulating." Instead, he commissioned us to "make disciples," his micro strategy for wherever the church is. But he also said, "Go to the ends of the earth as you do it"—a macro multiplication strategy.
Each multiplication of a church at the macro level provides a new context for addition of disciples at the micro level. The synergy between micro and macro strategies is powerful.
Jesus himself gave us the addition and multiplication design for his church. How we respond and embrace this design becomes a significant factor in shaping the growth culture we develop in our churches.
Two Growth Cultures
As we pursue growth, two cultures can emerge:
1. Addition Growth Culture
addition (micro level) + addition (macro level)
2. Multiplication Growth Culture (exemplified in Jesus' Great Commission)
addition (micro level) + multiplication (macro level)
In both cultures, we're commanded to make disciples at the micro level. But it's the macro level focus that makes the difference between how the church grows. When our macro strategies focus on accumulating and adding rather than releasing and sending, we get addition growth culture rather than multiplication growth culture.
So how do we pursue the addition and multiplication simultaneously? It starts with intentionality. We must continually ask ourselves, "How do we help everyone in our church reach their 'next one'?" while simultaneously asking, "How do we release and send people to reach the next 100,000?"
Something Is Just Not Right
As we approached our multiplication theme for 2015, our team at Exponential set out to identify 10 radically multiplying U.S. churches. By"radical" we mean churches that are multiplying in a way that's so different and so aggressive—compared with our current paradigms and measures of success—that few people would argue whether it's addition or multiplication.
With more than 350,000 churches in the United States, we hoped to find just 10 of these churches that we could highlight and learn from. We spent months looking and inquiring, but we couldn't find 10. We couldn't find even three.
Do the exercise yourself. Make a list of the top 10 most influential U.S. churches you can think of. These churches are likely doing remarkable things and positively influencing the kingdom. But how many are radically multiplying? How many are sending more staff than they are keeping? Putting more money into church planting than facilities? More aggressively planting churches than launching multisites?
Why don't we have more churches like Ralph Moore's Hope Chapel? Today, more than 700 churches can trace their roots to the seven churches Moore has started. That's multiplication! Far more significant than the current numbers is the reality that those 700 churches have multiplication so deeply embedded in their DNA that the resulting additional churches—which will be started over the next 10 years—will likely be mind-blowing.
We've defined success as addition growth, and few would argue that we've adopted it as our prevailing value that transcends most all we do. As a result, our practices and the things we celebrate align to produce what we value: an addition-growth culture.
Igniting a Culture of Multiplication
The challenge seems a bit daunting and unrealistic, especially when you consider Hope Chapel's trail of 700 churches! However, doesn't the radical multiplication of Hope Chapel and churches around the world characterize the movement nature of what we read about in the first-century church—what Christ commissioned the church to do?
The culture you create fuels whatever you value the most. Unless you're intentional about multiplication, in your zeal to grow you may unintentionally neuter multiplication.
In describing what has happened in Ralph Moore's church in their book, Viral Churches, authors Ed Stetzer and Warren Bird conclude that multiplication is so deeply engrained in the church's DNA that Hope Chapel would have to try not to multiply. Let that be our prayer. May God let us cooperate and collaborate with him in a way that multiplication becomes so engrained in who we are that we just can't stop it!
Stetzer and Bird pinpoint only one thing that needs to happen for church multiplication to become mainstream: "You need to do it!" In other words, multiplication must be both a core conviction and part of your practice. At this point in your journey, do your practices as a leader and a church reflect what you say are your core convictions?
When our conviction perfectly lines up with our practices like what we read about in Acts, God's response is multiplication. It becomes the inevitable outcome. As a result, we pass a tipping point where our core conviction, our story and our practice are so strongly aligned with who we are that, like Stetzer and Bird say, we actually have to try not to multiply.
By aligning our convictions with our practices, we are positioned to ignite a culture of multiplication across the American church, ultimately fulfilling Jesus' Great Commission of disciple making.
As a church planter and/or church leader, you are perfectly positioned, amid all your struggles and tensions, to be a change maker.
The bottom line is that we can't establish a multiplication culture without bucking conventional thinking and making some radical decisions. Are you willing to:
* Plant your first church before building or buying your first building?
* Send your first church planter before accumulating your first two or three staff members?
* Commit the first fruits of your financial resources, tithing 10 percent or more to church planting, even before paying other essentials like salaries?
* Plant your first church before starting your first multisite?
* Come alongside and coach other church planters in your area who can benefit from your encouragement and experience?
* Start or join a church planting network, locally or nationally, to collaborate with others, find accountability for multiplying and building a multiplication culture, and get involved in more than you otherwise could?
This article is based on Exponential's new free e-book Spark: Igniting a Culture of Multiplication by Todd Wilson. This e-book is the first in Exponential's new series of free e-books focusing on igniting a culture of multiplication in the U.S. church.