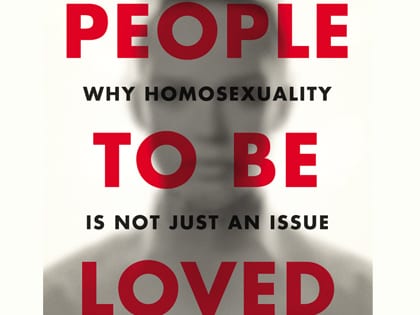 Preston Sprinkle: Why Homosexuality Is Not Just an Issue
Resource of the Year: Culture

People to Be Loved: Why Homosexuality Is Not Just an Issue
By Preston Sprinkle (Zondervan)
From the highest court in Washington D.C. to the village church in rural communities, nothing has grabbed America's attention like homosexuality. In this book, Preston Sprinkle contends vigorously that such persons are "people to be loved" and not just a topic to discuss, decide on and move on to the next politically charged topic.
Sprinkle knows the Bible well and studies each text honestly and responsibly, but he also understands each text in its historical context. More than that, his heart is in tune with gays and lesbians and how Bible people are to love all in a Christian manner.
Read an excerpt: "When Two Lesbians Come to Your Church"
Also Recommended:
Impossible People: Christian Courage and the Struggle for the Soul of Civilization
By Os Guinness (IVP Books)
In his trademark fashion, Os Guinness takes on the biggest themes of the modern world, turns them on the church and its gospel and challenges the church to be faithful, courageous and unflinching.
Good Faith: Being a Christian When Society Thinks You're Irrelevant and Extreme
By David Kinnaman and Gabe Lyons (Baker Books)
In this book, David Kinnaman and Gabe Lyons speak into the culture's rejection of the church and Christians with a new kind of hopeful power for Christian witness, showing how to engage with love and compassion.
EVALUATED BY SCOT McKNIGHT, a world-renowned speaker, writer, professor and the Julius R. Mantey Chair of New Testament at Northern Seminary.
This Year's Categories:
EVANGELISM
CHURCH
LEADERSHIP
CROSS-CULTURAL
SOCIAL JUSTICE
APOLOGETICS
CULTURE
DISCIPLESHIP
COUNSELING AND RELATIONSHIPS
CHRISTIAN LIVING
CHILDREN
YOUTH