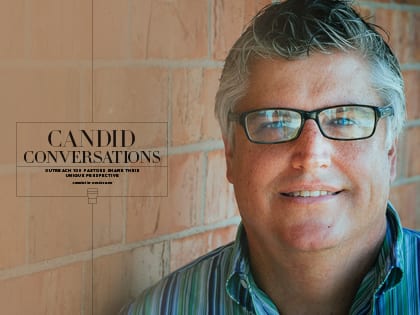 Each year, we speak with several Outreach 100 pastors in an effort to collect their honest observations about the church, their ministries and their experiences.
JERRY HARRIS
The Crossing in Quincy, Illinois
For me, the biggest key for managing stress has been decentralization. With 11 campuses pretty evenly divided and a central team running the majority of that ministry, I had the opportunity to give away so much ministry. This created so many places for regular people to move up and explore new and exciting things in ministry and at the same time take much of the burden of ministry from me.
Probably the biggest influences for me were two books I read in the mid-'90s, The Purpose Driven Church and Experiencing God. Rick Warren's book challenged me to rethink church models, and Henry Blackaby's book completely changed my understanding of the Holy Spirit.
When things are going well, you are never as good as people think you are, and when things are going poorly, you are never as bad as people think you are.
What I'm learning: Pride is incapable of learning anything. Success is the greatest enemy of success. Criticism is not a fruit of the Spirit. Never be out on the branch by yourself. Be generous in giving other people the credit. There is great wisdom in an abundance of counselors.
The challenges I see today are mostly as a result of the shift in culture. It's pretty obvious that we have gone from the home team to the visiting team. There will be a tendency in some churches to adapt to culture by compromising convictions on biblical truth. It may be that churches will have to decide between holding fast to biblical truth and losing tax-exempt status on property or charitable-giving exemptions. While this is troubling, it's also an opportunity for the church to shine all the brighter in a dark place.
American culture, through public education, media, the courts and popular opinion, is embracing personal redefinitions of identity from grade school up, and becoming increasingly intolerant of biblical ethics or behavior defined by the church. For me, a 56-year-old pastor who was brought up with "God and country" always connected together, it means realizing that these two concepts are no longer connected and that a church life is now an alternative lifestyle. This is not altogether bad news though. Being different from the prevailing culture is the native ground of the church, and it's exciting to think about what God might do.
Read more Candid Conversations with Outreach 100 pastors »
THE CROSSING
Quincy, Illinois
Twitter: @ONECrossing
Website: TheCrossing.net
Founded: 1974
Affiliation: Independent Christian Churches
Locations: 11
A 2016 OUTREACH 100 CHURCH
Attendance: 7,772
Growth in 2015: +745 (11%)
Fastest-Growing: 84
Largest: 59