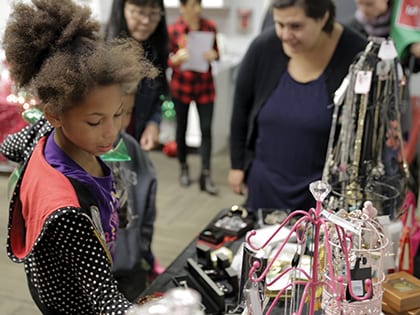 The Church: Calvary Chapel Chino Valley in Chino Valley, California
The Challenge: Reach out to single moms in the community.
One Big Idea: Host events that welcome single moms and their children into the church.
"My mom would love this," a young girl said, holding up a bottle of scented lotion. She was "shopping" at the Children's Boutique at Calvary Chapel's December event for single moms and their children. While the moms enjoyed a home-cooked meal, a time of worship and fellowship, and an encouraging speaker, their children ate pizza, did a craft project and picked out a Christmas gift for their mom.
June Jensen oversees the church's single moms ministry. "Our Christmas event is such a nice evening for the moms. They can relax, knowing their kids are being taken care of. And the kids have a blast. They love choosing a gift for their mom."
Last year, 100 moms and 125 kids attended the Christmas program, which costs each family just $5. The church covers the rest of the cost through donations.
Calvary Chapel sponsors several evenings for single moms each year, including a November craft night, a Mother's Day banquet, a family portrait night and a do-it-yourself home-improvement session.
"Our church body really rallies around these events," Jensen says. "We always have enough volunteers to cook for and serve the moms and take care of the kids. When we ask for donations of food, money or gifts for the children's boutique, our congregation always comes through."
Calvary Chapel, a congregation of 4,000, has been sponsoring these evenings for more than 15 years.
"The events are open to anyone, and we even advertise them on the radio," Jensen says. "Being a single mom is hard. We just want to encourage them and make them feel welcome in our church."