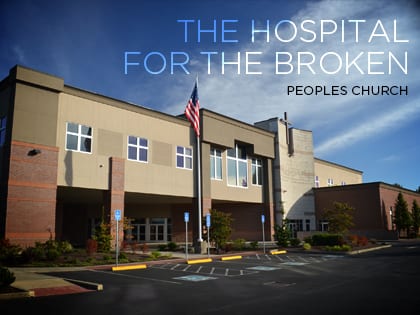 Peoples Church Grows Despite Challenges in Oregon Community
Peoples Church pastor, Scott Erickson, still remembers the worship service when a man with a shaved head walked to the altar for prayer. The question mark tattoos on his head caught the pastor's eye, so afterward Erickson pulled him aside to inquire about them.
The newcomer to the church in Salem, Ore., confided in Erickson that the death of his young daughter and breakup of his marriage left him with a number of unanswered questions.
"I grew up in a pastor's home. I thought everything would go well with me," he told Erickson. "I lost hope. I'm basically a man who has no place to go, wandering from place to place."
That day, seven years ago, the bereaved father listened to Erickson's sermon and decided to stop blaming God for the death of his child.
The pastor says a number of congregants at Peoples Church tell similar stories. They've survived terrible situations, trauma, abuse and homelessness.
"They've been through difficult times," Erickson says. "They find the church because there's such love for people in all walks of life. They're able to receive care. We're the hospital for people who are broken. When they walk in the door, we make it very clear you've found your place."
Although Salem includes a large middle-class population, the capital city also houses mental hospitals, prisons, undocumented immigrants and other vulnerable groups.
Accordingly, Peoples Church reaches a wide variety of people, Erickson says. That can be both a blessing and a challenge. A mentally ill man once tried to start a fire during a service. Churchgoers have had their cars burgled in the past, and newly released prisoners turn up at services.
The challenges don't end there.
"Salem is one of the most transitory cities in America," Erickson says. "What that means is 25 percent of the city moves because it's a government enclave, so there are a lot of government employees and when the party in Washington changes, people are on the move."
This means that people who have devoutly served the church often up and leave because they've been transferred elsewhere. In spite of this, Peoples Church makes a point to welcome all residents, whether destined to stay in Salem short term or for decades.
"We're passionate about loving God here, loving people unconditionally," Erickson says. "We want them to know we count it as a privilege for them to be here, no matter what they've been through, no matter what their circumstances."
PEOPLES CHURCH
Salem, Ore.
Senior Pastor: Scott Erickson
Twitter: @PeoplesChurch1
Website: PeoplesChurch.com
Founded: 1953
Affiliation: Assemblies of God
Locations: 1
A 2015 OUTREACH 100 CHURCH
Attendance: 2,619
Growth in 2014: +544 (26%)
Fastest-Growing: 23