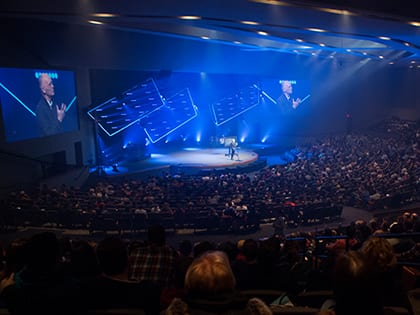 No. 54 Fastest-Growing: Eagle Brook Church in Minnesota Makes Every Sunday 'Predictably Good'
When Bob Merritt stepped in to Eagle Brook Church to pastor a flock of 350 people, he never imagined that a quarter of a century later, his one-campus church in Centerville, Minnesota, would expand to six campuses totaling 24,000 worshippers. Frankly, Merritt, a self-proclaimed introvert, finds it all a little overwhelming.
"I never wanted a big church," he says. But that's precisely what he got. And it grew, in part, because Merritt and his leadership team work hard to make every weekend predictably good so that when people come on Sunday morning, they not only want to return, but they also want to bring someone with them when they do.
"A lot of churches don't understand how critical their weekend worship service is to church growth," says Merritt. "Nor, quite frankly, do they realize the effort it takes to pull that off."
According to Merritt, zeroing in on the teaching is critical, followed by a well-rehearsed, well-thought-out musical selection. Creating spectacular kids' programs round out the church's focus.
"If you do those three things predictably great, your church is going to grow," promises Merritt, who, along with his team, is strategic about the timing and the topics of their message series. For example, in September, Eagle Brook launched a four-part series called "Made for More," which is all about finding your purpose and realizing your fullest potential.
"There's not a person on the planet who doesn't want to know why they are here and what they are supposed to do," says Merritt. In January, the church will kick off a series called "My Flipping Family." Playing off of home-improvement shows about mending broken structures, this series will focus on how to repair a struggling marriage. The church advertises these messages by way of social media, billboards, direct mail and oral invitation.
Regarding the music, Merritt says it's not so much about the genre as it is about executing it well by utilizing experienced musicians who are on-point vocally. The church often starts the service with a secular song in an effort to create a familiar environment for unchurched people.
"If they hear a song they know, they may think, 'Woah! This is church? Are you kidding me? I might be able to enjoy this!'" says Merritt, who acknowledges that although musicians may grow weary of grinding out the same template, the congregation doesn't tire of hearing it. "The people sitting in the pews want to be taken on a journey, so that's what we do, week in and week out."
Merritt also builds community simply by being normal.
"That may sound strange, but church can get really weird, really fast," says Merritt, noting that he makes a point not to single folks out during services. "Asking someone to stand up and introduce themselves in front of everyone makes their anxiety go through the roof. It took them a lot to get here in the first place, so why would I do something that's going to make them feel even more uneasy?"
And that's important for drawing in people like Phil Resendez, who was a drug addict when he first came to Eagle Brook to attend Quest 180, a Christ-centered addiction-recovery ministry. By the grace of God, his heart was healed and his soul cleansed.
After having struggled with an addiction to prescription medication since he was 10 years old, Resendez, now 38, has been sober for over two years. A year ago, he began volunteering at the Lino Lakes campus as Quest 180's guest services director. He also regularly volunteers at local hospitals to provide prayer and support to individuals who are in the same boat he once was.
"Having survived a suicide attempt of my own, as well as many overdoses and bouts with alcohol poisoning, I know how much it hurts to wake up alone, full of guilt and shame," says Resendez. "I'm there with them so that they don't have to wake up alone."
When their eyes do flutter open, he takes their trembling hands in his and shares his story. Then he let's them talk.
"It's not about me telling them what to do," Resendez says. "I'm there to listen."
Just as Christ does for us, 24/7.
Read more Outreach 100 fastest-growing church profiles »
EAGLE BROOK CHURCH
Centerville, Minnesota
Senior Pastor: Bob Merritt
Website: EagleBrookChurch.com
Twitter: @Bob_Merritt, @EagleBrookMN
Facebook: /EagleBrookChurch
Founded: 1949
Affiliation: Baptist – Converge Worldwide
Locations: 6
A 2017 OUTREACH 100 CHURCH
Attendance: 22,480
Growth in 2016: +1,761 (8%)
Fastest-Growing: 54
Largest: 11