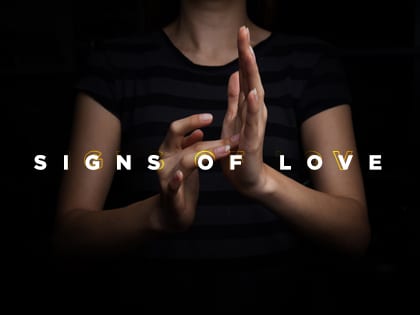 Burns Church of Christ builds an inclusive ministry where deaf members can fit in, find Christ and make friends.
The Church: Burns Church of Christ in Burns, Tennessee
The Challenge: Connect with and supporting the hearing-impaired community in a rural setting.
One Big Idea: Build an inclusive ministry where deaf members can fit in, find Christ and make friends.
Anthony Grissom, a deaf member of Burns Church of Christ, is a bit of a jokester—as is Matthew Hiatt, the rural church's minister. One Sunday morning during fellowship hour, Hiatt, in a flash of frivolity, placed his 2-year-old daughter's frilly unicorn skirt on top of his head. Anthony stealthily snapped a picture, then conspired with the tech guy to insert the photo into the sermon's PowerPoint presentation. The following week, as Hiatt was preaching, up popped a slide of him with a pink tutu adorning his head.
It was both a moment of laughter and distinction, as the prank indicated that the deaf community at Burns Church of Christ felt right at home.
Located in Burns, Tennessee, a farming community 30 miles west of Nashville, the small-town congregation had suffered the same fate as other rural churches whose hearing-impaired ministries had collapsed when their deaf members moved to larger cities in an effort to find connection.
In 2015, however, Gary and Lynn Chadwick began attending Burns Church of Christ. Gary, who is deaf, wore high-powered hearing aids but could hear only about 50 percent of what Hiatt said. So, Hiatt began to print out his sermons. Gary would sign the sermons to Lynn, who is deaf and blind, using her own hands—"a remarkable thing to watch," says Hiatt.
Fate intervened a few weeks later, when sisters and sign-language interpreters Deb Klahn and Vicki Drummond started worshipping at Burns.
"I wish I could tell you that we launched this ministry, but it's more like we landed it," says Hiatt, noting that now the 150-member congregation consists of about a dozen deaf people.
Though those who can hear are often leery of approaching deaf people, Gary Chadwick says that keeping one's distance only serves to isolate the hearing-impaired, making them feel more misunderstood.
"Deaf people think, act and feel like everyone else does," says Chadwick. "Connecting with us is the first step to forming friendships."
Hiatt has found that partial communication is viable via lip reading, note writing, exchanging texts and reading facial expressions. Still, nothing takes the place of sign language. Therefore, an interpreter signs for the hearing-impaired on the second Sunday of the month, and on the other three Sundays—at the request of the deaf members—they hold their own service in another part of the building. Then, on the fourth Sunday of the month, the entire congregation comes together to share a fellowship meal.
To help merge their worlds, two deaf members of the congregation started offering 12-week sign language classes in the community. The church is also in the process of putting together a string of short tutorial videos that explain conversational signs, which will be posted on the church's Facebook page. In addition, last December the children of the congregation learned three Christmas carols in sign language and signed them at the homes of deaf members. They hope to expand that ministry this year.
According to the National Institute on Deafness and Other Communication Disorders (NIDCD), 30 million people aged 12 and older have hearing loss in both ears. The Centers for Disease Control and Prevention reports that 37.2 million adults suffer from hearing trouble.
Hiatt says that although he wants to do all he can to provide support to the deaf community, schooling himself on how they feel can be challenging.
"My tendency is to view deafness as a problem to be solved, but this line of thinking does not generally reflect how the deaf population feels," says Hiatt, noting that many hearing-impaired people refuse to wear cochlear implants because they're proud of their heritage and language.
Bridging that gap in cultures is a work in progress. Still, Hiatt enjoys the journey and is thrilled to offer a ministry that no other church in the community has provided.
"We've found our niche," says Hiatt. "I'm glad God opened this door for us."
Find more ways to serve your community »
BURNS CHURCH OF CHRIST
Burns, Tennessee
BurnsChurchOfChrist.org