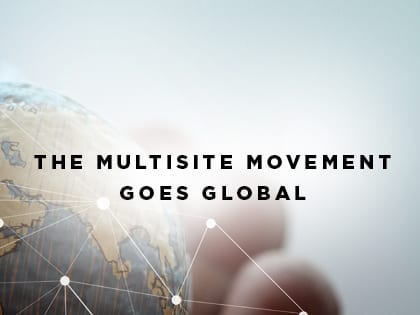 Churches are not just starting campuses across town, but across the world.
I recently visited a museum in Australia that visualizes how travel time to and from Europe continues to shorten. Centuries ago, wind-powered ships required months to make the journey, and then steamboats did it in weeks. Propeller planes measured their journey in days, and today, jets schedule their half-globe transit in hours.
Meanwhile, electronic communication has advanced and become so accessible to allow for real-time video meetings between Australia and other continents. With each advancement in technology, Australia has become less isolated and more able to influence the rest of the world.
This opportunity has not been lost on churches—like Australia-based Hillsong, which has put today's innovations to work in ways that extend and expand their reach. Not only has Hillsong started additional campuses in Sydney and other cities across Australia, it has also expanded globally. From launching its first international campus in Kiev, Ukraine, in 1992, Hillsong campuses can now be found in more than a dozen countries around the world, with more to come, according to Lead Pastor Brian Houston.
Hillsong is not alone. A surprising number of large churches have started campuses in other countries. Even more intriguing is how many—including Hillsong—have started campuses in North America. To date, Hillsong has three: New York City, which opened in 2011, followed by Los Angeles and Phoenix, with more on the horizon.
When I first started Leadership Network's list of global megachurches, I included a field to indicate whether each church had established a branch in the U.S. I am astonished at how many do!
Going full circle, many North American churches are doing likewise, opening campuses overseas. Here is a glimpse into the "why" behind these border-crossing endeavors.
Pathways for Going Global
Ever since the book of Acts, Christians committed to Jesus' Great Commission have been planting new churches in faraway cities. What's more recent is the idea of opening a multisite campus in a faraway city. If global church planting creates self-governing, self-sustaining, self-propagating congregations, an international multisite campus is typically "one church in more than one location united around core beliefs, values and strategy with some degree of central governance and central resourcing," says Jim Tomberlin, founder of Multisite Solutions.
But why create a multisite campus rather than a separate congregation? The logic is largely the same, whether locally or globally:
1. A desire for strong relationships. As Tomberlin observes, "When calling, partnerships and relationships converge, local congregations emerge. Some are church plants, and increasingly, many are multisite campuses."
More often than not, these relationships involve the migration of relatives and friends. One of the earliest megachurches in South Korea is called Young Nak Presbyterian. Across the world today, there are numerous Young Nak churches, including in the U.S. and Canada, where members from the original church campus have immigrated and brought their faith with them. These churches began initially as a campus of the sending church, just as European colonists of yesteryear brought their church names with them to North America.
Likewise, the Redeemed Christian Church of God, probably the fastest-growing denomination in Africa, has a goal to plant a "parish" (their term for campus or congregation) within a 15-minute walk or drive of every person on Earth. They already have parishes in more than 130 nations, including a 1992 launch in the U.S. They went first to pockets of Nigerian relatives and others from their Yoruba tribe—the top five Nigerian-populated areas in the U.S. are indeed the five places they planted first.
U.S. churches have also followed this relationship pattern. In 2013, Outreach magazine told the story of New Mexico's Sagebrush Church starting a campus in Belize. A church member had relocated there with his business. He had started a small group in his home using videotapes of his senior pastor, Todd Cook. That gathering grew into a multisite campus.
2. A willingness to start small and be flexible. Mario Vega, pastor of Elim, El Salvador's largest church, talks about how his church almost unintentionally planted new churches and campuses across El Salvador, North America and elsewhere. A civil war, followed by ongoing conditions of violence, caused many people to relocate. Wherever they moved, they took the model of evangelistic cell groups they had learned at their home church. Soon, new churches and campuses sprang up. Some wanted to be formally affiliated with their "mother" congregation, and others were more independent.
Likewise, Dave Browning leads Christ the King, a global network of churches based in greater Seattle. They welcome global campus partnerships with a low common denominator. As Tomberlin humorously describes it, "They follow the minimal amount of structure and control needed to keep their congregations from descending into chaos." This approach translates into an empowering culture with a bias toward multiplication.
3. Responsiveness to opportunity. Hillsong has many ready-made opportunities for potential campus core groups, with millions of people worldwide singing Hillsong music and hundreds of Hillsong College graduates living around the world. These large groups of young adults who love Hillsong's music give potential extension sites a huge step toward critical mass on their very first Sunday.
While all are guided by some level of "Macedonia call" (Acts 16:9) that presses them toward an unreached or underserved place, there is likewise usually a strategy that helps church leaders identify those locations.
Geoff Surratt, lead author of Multisite Church Revolution and an associate pastor at Southeast Christian Church in Parker, Colorado, served for a season on staff at Saddleback Church in Lake Forest, California, helping frame their global campus launch. Saddleback currently has campuses in Germany, Argentina, Hong Kong and the Philippines.
"I think there are several reasons Saddleback's non-U.S. campuses are seeing success," Surratt says. First, with Rick Warren traveling around the world since the mid-1990s, "this contact has given Saddleback an understanding of the cultures where they are planting campuses."
Second, the popularity of The Purpose Driven Church and The Purpose Driven Life gave Saddleback a community of friendly locals to draw upon.
Third, Saddleback chooses campus pastors from the local communities and continues to invest heavily in them. Saddleback brings its campus leaders to California at least once a year and spends time pouring into them, while also sending various teams from California to visit their international campuses. "This gives those campuses a stronger tie back to the original campus in Lake Forest," Surratt says.
Finally, the selection of potential locations for international Saddleback campuses targets strategic cities that include displaced people. Saddleback works "from the assumption that it is more effective to share the gospel with members of an unreached people group who have relocated to a city than to try to get out to every remote village," Surratt says.
In short, according to Surratt, "While the factors of migration, potential core, partnership and 'call' were strong, we also focused on strategy."
More Ahead
My suspicion is that churches, especially larger and more innovative ones, will continue to experiment with global outreach through multisite campuses. Given today's advancements in technology, there are increasing opportunities to extend and expand a church's reach. And if that reach is designed to make more and better disciples of Jesus Christ, then these new global campus environments are a helpful step forward.
Warren Bird, an Outreach magazine contributing editor, is research director for Leadership Network and author or co-author of 27 books for church leaders. Bird oversees Leadership Network's list of global megachurches at LeadNet.org/world.