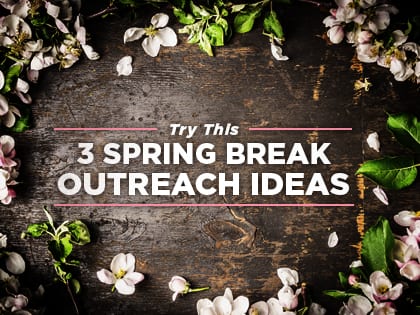 Use spring break as an opportunity to connect with and serve your neighborhood's teens and children. You'll score points with parents, too!
1. Eastside Christian Church in Albany, Oregon, hosted a dance for middle and high school youth, complete with a portable stage, sound system, lights and a local high school student serving as the disc jockey.
2. For kids in kindergarten through 5th grade, CityView Church in Pearland, Texas, led two-hour flag football camps and dance camps throughout spring break week at a local recreation center.
3. Volunteers at First Christian Church in Benton, Illinois, made sure school children who normally get fed in the cafeteria didn't go hungry. They prepared free hot lunches for Benton grade school students.
Find more spring outreach ideas »