Taylor Guitars master designer Andy Powers reflects on the beauty of music and his journey toward his brand new Grand Pacific design
Taylor Guitars are everywhere, but never more ubiquitous than in the worship band setting. Their signature sound is bright, full and colorful, their build is solid and beautiful and their heritage goes back more than 35 years. In 2018, Taylor introduced a revolutionary new system for bracing the soundboard of their guitars that maximizes projection, sustain and intonation effectively getting more from the soundboard than possible with the conventional X-Bracing. This year, they introduced a new guitar, the Grand Pacific, the slope-shouldered dreadnaught an intentional departure from the "modern" sound and look of Taylor guitars. Andy Powers is the man behind these changes at Taylor. Outreach had an opportunity to catch up with Andy at the 2019 NAMM show (National Association of Music Merchants) to talk about his role with Taylor, his inspiration and lessons learned as he directs one of the most iconic and beloved guitar companies in history.
Andy, You've been busy. Bob Taylor hired you in 2011 as the architect for the future of the company, not to fix a problem, but to ensure that Taylor's quality, innovation and heart live on long into the future. Is that a fair statement?
Yes, actually, Bob had approached me wanting to work together earlier than 2011, with the idea that if we could combine our efforts, we could do something really great for musicians. His thought was fairly simple—working alone, I could make perhaps a dozen musicians very happy each year by building them an instrument. Combining our efforts—my guitar making and the manufacturing ability of Taylor—we could bring great instruments to a whole lot of musicians each year, and provide for many people along the way. Looking forward toward the future, Taylor could continue to be an instrument company driven by a maker to continue building great guitars.
That's a pretty serious level of stewardship. Did you realize the gravity of the role at the time you said yes to Bob?
I suppose so, but even now, I tend to think of this as a continuation of the work I've always done. From the time I was a little boy, I've been making and playing instruments. That was a desire and the path set in front of me to walk down. I'm thrilled to continue building a next instrument, trying to do a better job at putting an inspiring guitar into the hands of a player.
Did have difficulty transitioning from a home shop, working alone creating instruments exactly as you choose, to a state of the art factory with a team of engineers and builders with a well established industry leading product?
Well sure, any change will always have some difficulty. You're making something new, and that isn't usually easy. I've always felt a great maker is at the service of the musician and their music, so even during the years building by myself, each instrument was made to fit the desires of the player who ordered it, not necessarily what I'd felt like making. In transitioning to Taylor, a significant adjustment was learning to look at the scale of each task required to build a guitar. For example, I'd look at a seemingly simply detail, like inlaying the position marker dots on the side of a guitar's fretboard. I would naturally just do those by hand and move on. In the context of Taylor's production, there are literally about a million of those dots to do each year. Each individual needs to be drilled and inlaid just so to come out right. At that scale, this tricky little task turns frightening.
What were your biggest leadership challenges in those early days?
It seems I'm learning new things all the time. I've come to believe each person has a desire to do their work well, and it's up to a leader to give folks what they need in order to be successful in their endeavors, whether that is training, tools or time.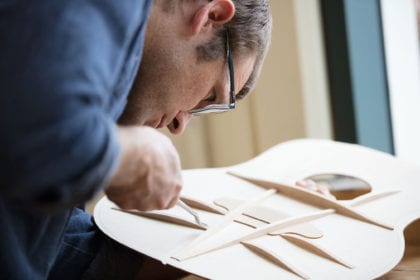 You built guitars for years before joining Taylor, is V-Class bracing an idea that you had spinning around in your head early on, or is it something you developed specifically at Taylor?
The V idea developed after I'd been at Taylor a few years. I had discovered some challenges a flat top guitar faces over the course of years, but didn't necessarily have good methods to step around those issues on a large scale. After redesigning the 800 series guitars and launching them in 2014, I had a pretty clear idea of what we could and could not make. In order to do an even better job advancing our designs, I saw a need to borrow more heavily from the other instruments—elements from the arch top guitar, mandolin and violin families, and the electric guitars. Taking a more interdisciplinary approach to designing and building a guitar allowed us to borrow the standout features I like from different instruments.
Taylor guitars are coveted in the Christian worship space for their clean pure sound, playability, temperament and character. As you re-engineer each instrument, what is your goal for the player, what do they gain with the technology?
My ultimate goal is for an instrument to be more than what a musician can ask for. I want each guitar to provide a musical voice, an inspiration past mere utility for the player. Naturally, each musician is as unique as their own fingerprints, as are their influences and preferences. In response, I want to make instruments with different characters, unique personalities so a player is able to choose the voice which fits their style best. With the V-Class designs, each of these instruments become more distinct in their personalities, and more musically useful—better dynamic range, longer, more linear decay, more accurate and sweeter sounding intonation. These designs may be a little harder to make than some we've built in the past, but our incredible team is up to task.
The Grand Pacific is a new shape and new sound for Taylor, it's distinctly your guitar, and an indelible imprint you've placed on the company, what inspired this instrument?
Like most musicians, I've grown up listening to a lot of records. I was especially taken with the sounds of my parents' bluegrass and country records. In 2013 and 2014, I was spending a lot of time doing carpentry work on my house, and listening to all these old records I thought of as work music. In the years since I had first listened to them, I'd gained a good deal of experience with many of the old instruments which made those songs, and realized few sounded as good as the recordings did. I wanted to build a guitar which had a familiar sound, but refined to a modern level. That is actually what led to building the first V-Class guitar.
The Grand Pacific brings a new sound (or is it an older more mature sound?) missing from the Taylor lineup. Do you foresee expanding the Taylor lines into even more diverse sound profiles, or is the Grand Pacific a one-off guitar line?
The Grand Pacific makes a unique sound. It isn't necessarily the same high fidelity, high resolution sound players typically associate with a Taylor guitar, but offers its own voice. If you think of a modern Taylor guitar as having a piano like sonority, the Grand Pacific will offer something more like an organ, where each note smoothly blends together. It has the balance, super-accurate intonation, volume and power we want from a great guitar, but with a personality all its own. Building with the V-Class internal architecture, the instruments in the Taylor lineup will become more distinct—each with its own voice.
Worship bands often include players with many disparate levels of musicianship, technique and ability, and the music they play is often diverse, pulling from many different musical genres, Is the Grand Pacific a universal instrument or does it have a specific audience?
To me, a great instrument offers a lot of musicality, no matter what musician picks it up. As an example, consider a good Steinway piano. Vladimir Horowitz, McCoy Tyner and Dr. John would all sound amazing on it, yet sound completely unique because they are three pianists with diverse styles. The Grand Pacific guitars are built with this mind—musicians will play them in different ways, and with different levels of ability. These instruments will respond to each with a warm, dynamic and broad musical voice.
You clearly have an amazing work ethic and are extremely dedicated to your craft and to Taylor. That can't possibly leave too much time at the end of the day. How much do you get to sit down and play for yourself these days?
It does seem that most days tend to fly by rather quickly. For me, building instruments has always been intertwined with the playing; I don't do a good job separating the two, and don't really care to try, because I believe instruments are best built with a constant reminder of what they are for. So, while I feel like I never have as much time to play as I would like, I do get to sit down with an instrument each day and make some music.
Can you tell me a little about the first guitar you built?
I was 7 or 8 years old when I first tried to build a guitar. So, you can imagine how primitive that was. My dad, who is a carpenter, brought home a scrap of wood large enough for me to try building into a guitar. I finally turned it into something resembling a guitar, only to watch it explode as I started to tune up the strings. That was probably for the best, I'm not sure if I would have become so obsessed with making a better one if the very first had worked as I thought it would.
You've been at Taylor for eight years. In that short time you've redesigned iconic guitars, developed a revolutionary new bracing system and now introduced a completely new instrument, solidifying your name in the history of guitar making, forever, what is next for you Andy?
For me, I'm working on the next instrument I'd like to put into the hands of a musician. Making instruments, like playing music, or any other creative endeavor, is a lifelong pursuit where we are compelled to do an ever better job. Beauty is the language through which God and man wish to communicate. That I am able to make musical instruments that allow others to make their incredible music is a great treasure and a privilege to me.