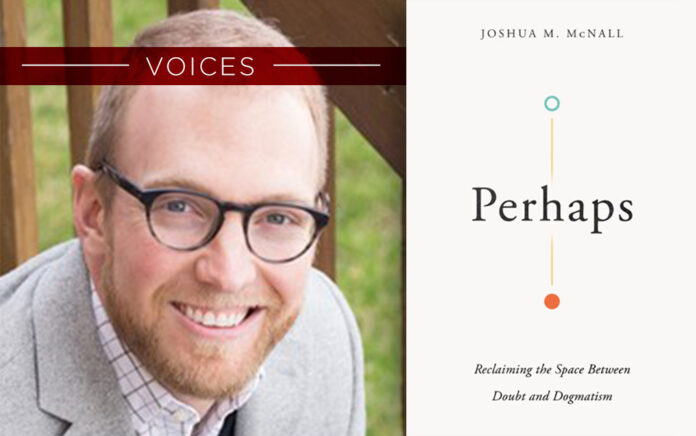 Reclaiming the Space Between Doubt and Dogmatism
Perhaps (IVP, 2021)
WHO: Joshua McNall, associate professor of pastoral theology, ambassador of church relations and director of the honors program at Oklahoma Wesleyan University.
HE SAYS: "My book defends a form of speculation in theology and in the Christian life, albeit with some important cautions."
THE BIG IDEA: Reclaiming the word "perhaps" on certain contested topics leads to reclaiming the place of holy speculation and turning to Scripture.
THE PROGRESSION: In Part 1, "Understanding Perhaps," the author presents his argument that a certain form of faith-seeking imagination is essential. Part 2, "Against Dogmatism," examines the trouble with religious certainty. Part 3, "Against Doubt," discusses how Scripture counters a divided heart and secular doubt. The book concludes with Part 4, "Practicing Perhaps," a look at resurrecting the imagination.
"We must learn from Scripture and tradition how to say perhaps, and we need guardrails for the journey. With these in place, a certain form of speculation can lead not heresy or oddity but to a more robust orthodoxy."