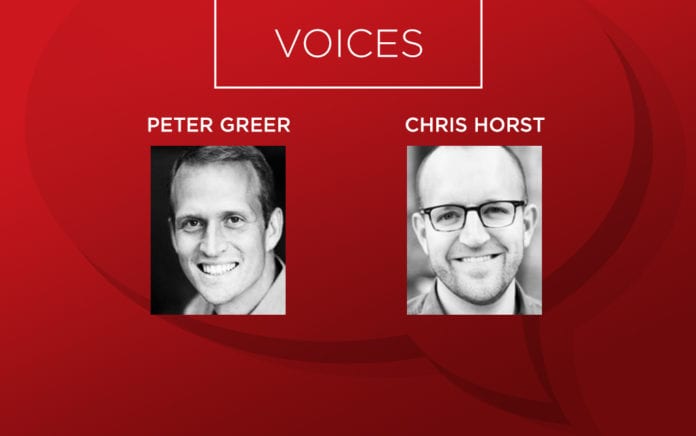 How Collaboration and Generosity Increase the Impact of Leaders, Charities, and Churches
Rooting for Rivals
(Baker Publishing Group/Bethany House, 2018)
WHO: Peter Greer, president and CEO of HOPE International, and Chris Horst, vice president of development at HOPE International.
THEY SAY: "Up and to the right is not the only metric for success for followers of the One whose legacy on earth was defined by self-sacrifice and love for those who could never repay him."
THE BIG IDEA: Faith-based organizations should be generous and open-handed, reflecting the coming kingdom as we pursue a higher calling rather than a single agenda.
THE PROGRESSION:
Part 1, "Why We Root for Rivals," examines the biblical basis for unity among faith-based organizations, emphasizing that we need to focus on kingdom over class and trust God in abundance and in scarcity. In Part 2, "How We Root for Rivals," the authors spend several chapters comparing what we should not do versus what we should do: pride vs. humility, greed vs. generosity, envy vs. contentment, vengeance vs. grace, sloth vs. steadfastness and gluttony vs. temperance.
"Organizations come and go, but we are part of a movement that has no end."
Order this book from Amazon.com »
Read an excerpt from this book »
A 2019 Outreach Resource of the Year—Leadership Category
"This book captures something I believe is utterly critical for the church if it is to continue its mission: reverse the trend of declining churches and reclaim its place as cultural change-agents."
Evaluated by Ron Edmundson, CEO of Leadership Network who previously served for 16 years as a senior pastor. He also has over 20 years of experience in the business world.