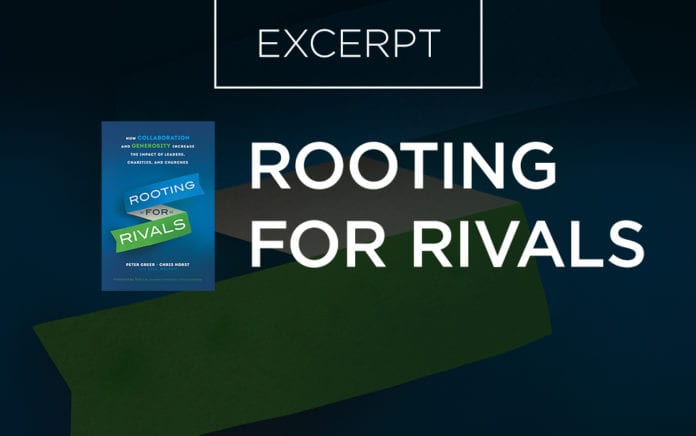 Our understanding of God's kingdom and provision must shape our business practices.
Excerpted From
Rooting for Rivals
By Peter Greer and Christ Horst
Scarcity Over Abundance
Eager to learn about how to more fully root for our rivals, we sought respected leaders in a variety of sectors who model radical openhandedness. We called and emailed asking them for their perspective on collaboration, and unsurprisingly, they shared freely.
We invested time listening to and learning from these organizations. They were diverse. Some were prominent institutions like Compassion, Life.Church and International Justice Mission. Others like Esperanza International, Max7, ReadySetGO, Invest-Credit and Center for Community Transformation were less well-known but just as creative in modeling a posture of openhandedness.
We wanted to explore what they believe, and what they do, and in some small way, emulate their example of generous leadership. As we learned from these leaders, we saw that their posture and practice seemed to hinge on their answers to two central questions:
1. Do we live in a world of scarcity or abundance?
2. Are we focused on our clan or the kingdom?
Consistently, we heard these uncommonly generous leaders share how they believe in a world of abundance and focus their efforts on kingdom advancement. Their perspective stands in stark contrast to much of the nonprofit world.
Exclusive Rights
In preparation for a large Christian conference, we were thrilled about launching a new virtual reality experience. Our team had traveled to Malawi to capture video footage of a savings group and had composed a compelling experience: It was the closest thing to actually being in Malawi. The conference seemed like the perfect place to debut the new technology, which would transport ministry leaders through a headset into the context where they would see the work done through local churches.
We signed the contract, paid the sponsorship fee and prepared for the launch. We trained our staff. We purchased extra Samsung headsets. We polished the VR experience. Our staff grew excited to share what God was doing through local churches in Malawi. However, just weeks before the conference, we received a surprising email: The conference organizers were breaking the contract. They wrote that we wouldn't be able to share the virtual reality experience.
Especially after all the preparation and the signed sponsorship agreement, we wondered why the conference had made this last-minute decision. Why would they prevent us from sharing this experience with conference attendees?
The response shocked us.
We learned that another Christian organization had created a similar virtual reality experience focused on another part of the world. They agreed to sponsor the conference at the highest level but with one clear request: They wanted to be the only organization providing a virtual reality experience.
They wanted exclusive rights.
While this might be a common approach in corporate sponsorships, this stipulation seemed out of place at a conference designed to encourage and inspire Christian leaders. At the core was the idea that there is a limited audience and that having another virtual reality experience might decrease the focus on this organization. They believed there wasn't enough attention to go around.
In the middle of this experience, a board member said to me (Peter), "It's just a business deal." These words were meant to calm my ruffled feathers and encourage me not to take the decision personally. I appreciated the sentiment but disagreed with his basic premise. When we treat one another as competitors, a "win" for our organization is more than offset by a loss for the kingdom.
Exclusivity flows from the idea that we live in a limited world. That there isn't enough for us all, so you need to protect what's "yours." Old Testament scholar Walter Brueggemann writes, "The central problem of our lives is that we are torn apart by the conflict between our attraction to the good news of God's abundance and the power of our belief in scarcity—a belief that makes us greedy, mean and unneighborly."
In this powerful tug-of-war, we found openhanded leaders always lean toward the good news of God's abundance. The God who created the universe is big enough to trust with our daily organizational issues. Great Christian nonprofit leaders refuse to see through a lens of scarcity, and the result is a far greater impact for us all.
Tell me more about this book »
Order this book from Amazon.com »
Excerpted from Rooting for Rivals by Peter Greer and Christ Horst. Copyright 2018. Published by Bethany House, a division of Baker Publishing Group. Used by permission.