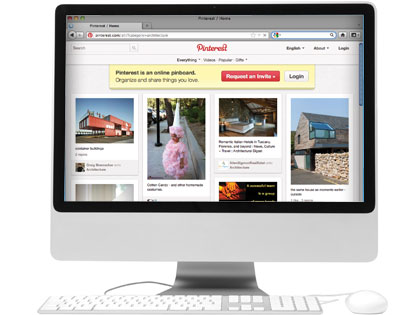 4 ways your pinning habits build connections with others.
A social photo-sharing website that acts as a virtual pinboard, Pinterest says its mission is "to connect everyone in the world through the 'things' they find interesting." Pinners, as its users are called, pin everything from family photos and recipes to home-decorating ideas and pictures of liked shoes or clothes. The site launched in March 2010 and within nine months, had 10,000 users. That number has grown exponentially—up to 4 million unique visitors each day! And don't be fooled: It's not just for women. Men, now make up 30 percent of all pinners.
Here are four ways your pinning habits can help you reach out to others:
Find common ground. "Like" or "re-pin" the images of those already in your community. You discover what people value and where interests intersect. The notification system works fast, and you can gauge who is responding and what exactly they liked about your posts. Common ground is where relationships manifest and trust develops.
Use multimedia. Others can learn more about you and vice versa through the pinning of videos and blogs. Christian blogs and videos serve to enrich your story while adding texture to the other content pinned on a board.
Reach out. Use the main search function to discover content outside of your follower mix. You'll find fresh images and brand-new people to add to your community. Make comments on posts when you re-pin something from someone's collection for the first time. It's a gracious way to quick engagement and a new friend.
Celebrate. Boards are often used to plan the celebrations to come or to document ones that have passed. A joy-filled occasion connects people intensely around life's most profound hopes, dreams, delights and desires. Comment, celebrate and bless those events as you see them unfold in the lives of others.