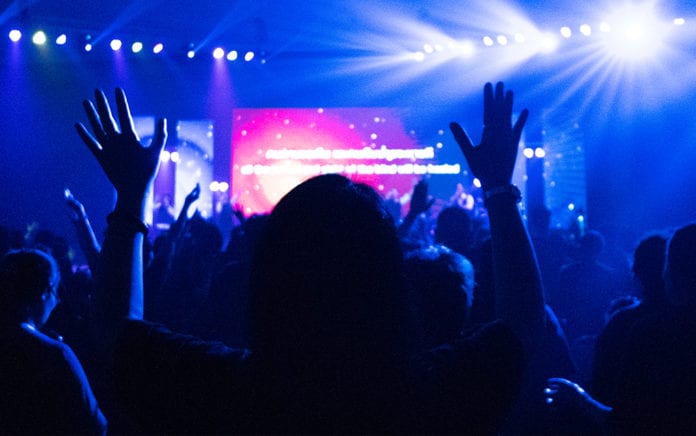 Bringing in laser projectors put Hunt Valley Church's second location on the map.
Houses of worship have long served as a place for refuge, comfort and community. While these motivations have endured through the centuries, new digital-driven ways of consuming content and a growing penchant toward tech-oriented visual experiences have dramatically transformed today's worship experience.
For Hunt Valley Church in Hunt Valley, Maryland, the 400-seat expansion of its second location presented an opportunity to add a new visual dimension. Specifically, the church sought to utilize an 80-foot-wide-by-15-foot-tall wall to broadcast live video of services from its main location, as well as powerful and stunning visuals that would delight and engage the congregation.
However, careful use of funds was a key consideration. It was imperative to find a high-quality, budget-friendly solution. Furthermore, it was important for the technology to be reliable and easy to maintain without the need for regular servicing by a technician.
To make its vision a reality, Hunt Valley partnered with Solsound Inc., experts in visual display technology and installations, who explored both LED wall and projection options. Achieving the desired level of resolution with LEDs, plus the complexities of installation and construction costs, would be difficult to accomplish within budget. On the other hand, projectors would provide the church with exceptional visual results, without the financial constraints.
Vivitek's large-venue projectors with laser phosphor illumination and liquid cooling eliminate the need for maintenance found in typical projectors with lamps and filters. This quality was critical, as the projectors would need to be installed approximately 20 feet above the congregation's seating, not allowing for easy accessibility or maintenance.
Under these circumstances, the Vivitek DU9800Z projector was the best solution. To maximize wall space, four projectors would be used to project a blended image for the congregation, with an additional Vivitek short-throw projector added in front of the platform as part of the confidence monitoring for those on the platform.
The projector uses a laser light source, which does not require frequent bulb changes, unlike lamp-based projectors. This feature is a substantial benefit for the church, as all the projectors contribute to a singular blended image. With lamp-based technology, the bulbs of all four projectors would need to be simultaneously swapped out each time in order to preserve consistent image quality across the board. Using laser-based units, the church eliminated the need for regular lamp changes and subsequent recalibration, resulting in significant time and cost savings.
The projectors were well-received by the congregation, with many worshipers electing to attend services at the satellite location to enjoy a modern form of worship that is heavily atmospheric and immersive. While many churches use streaming services to display content, the Point campus takes parishioners on a visual journey spanning historic cathedrals surrounded by stained glass, sweeping ocean vistas, peaceful forests and majestic mountaintops that reinforce the spirit of each service.
Each weekend, a volunteer team operates the equipment, which can also share song lyrics, Scripture or undulating effects. Most importantly, the screens serve to unite all the campuses, creating a cohesive, interactive feel across the separate locations. Many churches struggle to form this level of connection across their satellite campuses and have reached out to Hunt Valley with the desire to emulate their achievement.
"Projection technology has helped us create a dynamic and connected environment that we can easily keep fresh and compelling," said Caleb Moore, director of tech, media and communications at Hunt Valley Church. "Since making these changes, The Point has seen a noticeable uptick in attendance, and it's because people know there's something special about it as soon as they walk into the room."