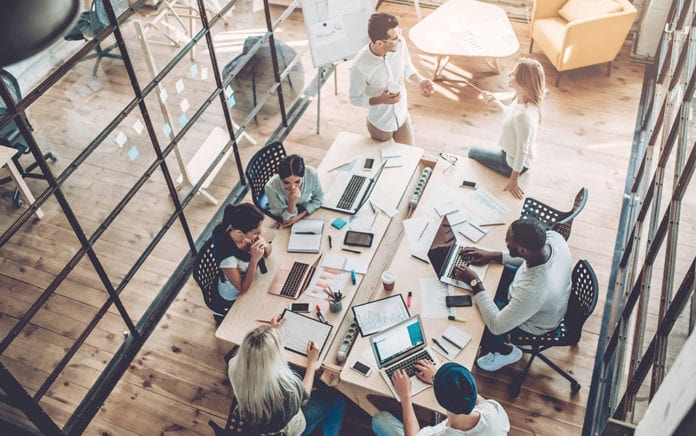 These new findings from Barna explore how Christians feel about vocation and calling.
Christians have long wrestled with what it means to integrate their working lives with their faith. A new Barna report on vocation explores how American Christians experience a sense of purpose and calling in their professional lives. The good news is that most Christians say they feel supported by their church when it comes to their career, claiming their local congregations help them understand how to live out their faith in the workplace.
Work and Worship: Christians Feel Vocationally Supported by Their Church
The term and concept of vocation has its origins in the Christian Church. Though the connotations and the world in which it is applied have changed significantly in the centuries since, local churches continue to bear the sacred responsibility of preparing Christians for their own vocational commitments and challenging them to see the work of their hands as holy and unique. Thankfully, churches are taking this charge seriously and remain powerful partners in living out one's calling. Those with practicing faith have a deeper vocational awareness and satisfaction and overall, regular church attenders seem to both receive from and give to their churches often in relation to their God-given gifts.
The majority of churched Christians in this study—meaning those who attend worship services monthly—strongly agrees that their churches help them understand how to live out their faith in the workplace (53 percent "strongly" agree). Nearly all of these Christians (80 percent) are at least interested in using their work-related gifts at their churches, including 39 percent who already do so. Regular attendees in turn feel their churches are supportive of them in their career (45 percent "definitely"), often by providing specific training on vocation (63 percent). Practicing Christians—distinguished from general monthly attendees by a strong affirmation that faith is very important to them—tend to be even more vocationally nourished by their church.
However, the full research study also reveals some disparities and deficiencies. The majority of Christian workers, particularly those who aren't engaged in a church, still fights to discern and act on a calling in their professional lives. Studying responses by gender is like watching a vocational seesaw, with women thriving during singlehood and men thriving during fatherhood. Young adults, though ambitious and idealistic, lack some spiritual inclinations as workers. Older adults, with one foot out the door of the workplace, might need some encouragement to finish strong. Needless to say, much work remains to be done.
Put It to Use: Questions and Actions for Church Leaders
Are churches and ministry leaders helping emerging adults become more vocationally minded than career-oriented?
Is your church taking vocational discipleship seriously by preparing Christians to faithfully engage with their daily lives and workplaces, as well as shaping those called to a future in ministry themselves?
Are leaders in your church mentoring both future ministry leaders and future industry leaders?
Does your church offer a designated ministry or program for faith and work?
Rather than only drawing people to your church, who are the workers and leaders who already sit in your services and are ready to be sent out? What are you doing to equip them to represent the Kingdom coming near?
Could your ministry love your neighbors through vocationally oriented "community service"—practical seminars, meals, supply drives, coffee & prayer gatherings and so on?
Learn more at Barna.com.