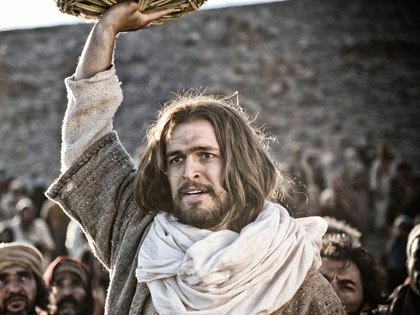 An epic, 10-hour miniseries on the History Channel that brings the Bible narrative to life

The Bible
Executive Producers Roma Downey and Mark Burnett
Premiers March 3, 2013, on the History Channel
This epic, 10-hour miniseries brings to life many of the stories of the Bible in a new and compelling way.
"Our job is to make you connect—either reconnect with the stories or connect for the first time with these stories," says Mark Burnett, who with his wife, Roma Downey, produced the miniseries. Downey starred in the television series Touched by an Angel and plays Mary in the miniseries, and Burnett is the producer of multiple hit television shows such as Survivor and The Voice.
The Bible series includes compelling depictions of biblical stories including creation; Noah; Abraham; Moses; the parting of the Red Sea; David and Goliath; Azariah, Hananiah and Mishael in the fiery furnace; and the life of Jesus.
Multiple resources are available from Outreach Inc. to assist churches as they connect people with The Bible miniseries and engage them in deeper discussions about the Bible.
For more information: BibleSeries.tv; BibleSeriesOutreach.com