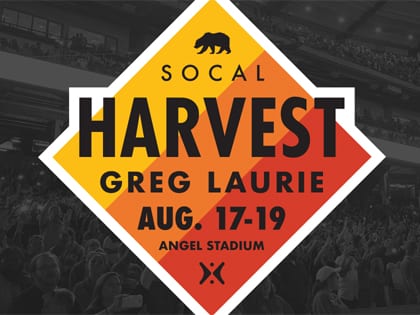 Unite with hundreds of local churches for a proclamation of the gospel at Angel Stadium on August 17–19, 2018.
SoCal Harvest
August 17–19, 2018
Angel Stadium
Anaheim, California
SoCal Harvest is a free, three-night event at Angel Stadium in Anaheim, California on August 17–19, 2018. In its 29th year, the event will feature music from top Christian artists, plus a gospel message by Greg Laurie. Pastor Greg will answer some of life's most important questions, such as, "What is the meaning of life?" and "What happens when we die?"
Harvest events are designed to be opportunities for Christians to invite family members, coworkers, friends, and acquaintances to hear the life-changing message of the gospel in an environment that is entertaining and non-threatening. More than 8.9 million people have participated in Harvest events in person or online since 1990, with 509,897 of them making professions of faith.
For more information and to register »
Find more events for church leaders »