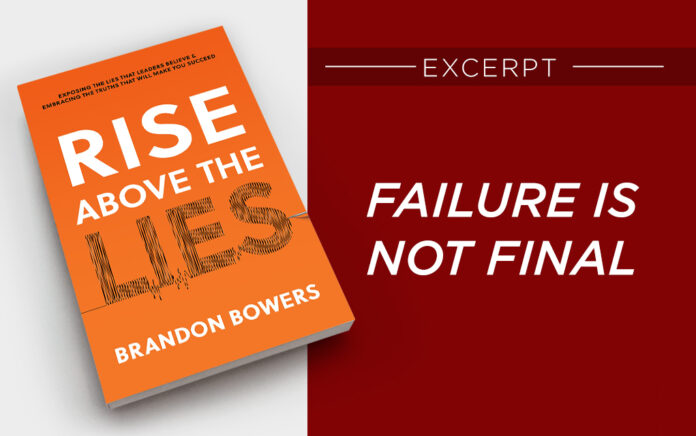 The question is not if we will fail, but how we'll respond when we do.
Excerpt From 
Rise Above the Lies
By Brandon Bowers
Failure Is Not Final
It was Palm Sunday when I got back from Dallas. I showed up to preach that morning and there was a letter in my office mailbox. It stated in very clear terms that the church that held the rights to the building was no longer interested in continuing their rental agreement with us. We were told to begin looking for another place and to keep them informed of our progress in doing so. I can still feel the weight on my chest as I read those words that morning. I could not believe it. I folded up the letter, walked downstairs, and preached my heart out in front of a packed house for Palm Sunday. I sang. I prayed. I preached. I shook hands and kissed babies. And then I got in my car and cried.
I had failed miserably.
I had just sealed the fate of our church.
I had ruined the relationship with our rental.
I had just driven our church to homelessness.
I had no idea what to do next.
I stayed up that night and read my Bible. I would like to say that I always do that when times get hard, but that'd be a lie. But on this night, I was reading my Bible and reviewing the notes I had jotted down at the conference I had just attended. The notes were about risk-taking because we serve a trustworthy God who is in control of all things. It was there in those notes that I found hope. I was reminded that God would make a way; He would enable and empower me to lead our church in this season of uncertainty. In that moment of hope, I remembered meeting a guy named Scott Olson while I was in Dallas. Scott was a faithful member of Prestonwood and a major supporter of the Prestonwood Network. When I met Scott, I learned that he loved Charleston and vacationed to Kiawah Island each year with his family. He had heard about what God was doing through our church and said that if he could ever help to let him know. I also learned that he was involved in commercial real estate. While I didn't know Scott that well, I knew that I now needed him. So I decided to pick up the phone and capitalize on his offer to help. And it was the call that changed everything. 
I called Scott on Monday morning and told him about the letter. I told him about how my original plan had failed and how we needed to come up with a new one, and fast. He asked about our demographics, our financial situation, and what flexibility we might have with potential locations. We covered a lot of ground in terms of details and numbers and specifics, but what made the biggest impact on me about that initial conversation with Scott boils down to this: his faith. I will forever remember explaining our situation to him and waiting for some kind of rebuke. I had so many assumptions about what he would say in response to my failure through the phone call, but what came out of his mouth struck me like few words ever have.
"Brandon, this isn't the end. You know that, right? God's got this, and we're going to figure it out together."
With his encouragement and perspective, I knew Awaken Church would bounce back. We were resilient. We'd get through this. This failure was not final.
We went on to find a new location and embark on a massive building project that grew our faith as a church beyond what we could have imagined. I watched the people of our congregation rally behind the vision and make tremendous sacrifices, allowing us to move into a permanent church building that has seen thousands of people walk through its doors. I have witnessed what can happen when a leader overcomes initial failure and finds the strength to forge ahead against all odds. I have also realized there are times when boldness must be borrowed from people like Scott Olson. I have vowed to be that person for other people when it's needed, and my prayer is that you would agree to be the same. As a leader and pastor, I find it a joy to offer hope and encouragement when others come to me with their own challenges and failures. It is so important to believe in the truth that failure is not final and help others to see and believe that, as well.
The question is not if we will fail, but how we'll respond when we do. Failure is inevitable, but it is not final. When we let pride and self-pity lead us to think we are beyond redemption, we begin to believe the lie that has the power to immobilize us. When we choose to stand back up after being knocked down and learn from our failures, we become better leaders. There's no such thing as a perfect leader—the sooner you get comfortable with that, the more successful you will be. Like Peter, you don't have to be faultless in order to make a huge, positive impact in this world. You just have to be willing to stand back up and keep walking forward.