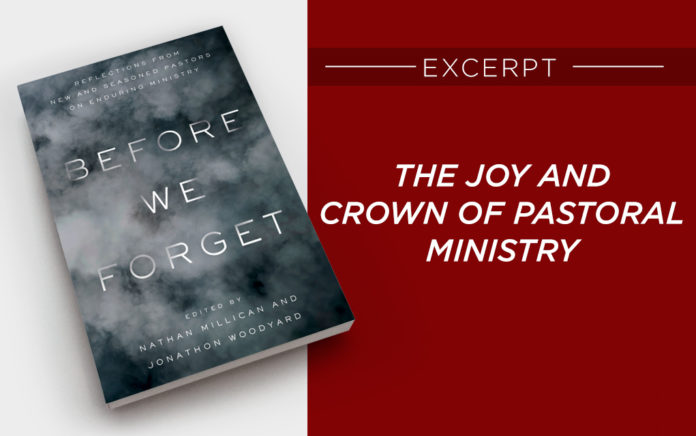 Excerpted FromBefore We ForgetEdited by Jonathon Woodyard and Nathan Millican First Thessalonians 1–3 is a passage that touches on the joys of pastoral ministry. Paul finds joy and fulfillment in the development of the Thessalonian church. Now, there is considerable debate about whether or not we can call an apostle like Paul a pastor, and […]
Excerpted From
Before We Forget
Edited by Jonathon Woodyard and Nathan Millican
First Thessalonians 1–3 is a passage that touches on the joys of pastoral ministry. Paul finds joy and fulfillment in the development of the Thessalonian church. Now, there is considerable debate about whether or not we can call an apostle like Paul a pastor, and there is considerable debate about what comparisons can be made between apostolic and pastoral ministries. Those discussions lie well beyond the scope of this work. Nevertheless, the principles from Paul's experience at Thessalonica are applicable to pastoral ministry regardless of where we might land in these debates. So, while our pastoral ministry in our local churches certainly differs in significant ways from the apostle Paul's ministry at Thessalonica, there are points of connection that provide encouragement for pastors not to take the pastorate for granted.
Paul went to Thessalonica and continued his missional practice of going to the synagogues where Jews gathered so that he might show them that Jesus is the Messiah from the Old Testament. The result was that a large group believed in Jesus and began the Thessalonian church. This ticked off the Jews in the city, who then stirred up persecution that caused Paul and his crew to leave for another ministry setting—ultimately to Athens. Paul wanted to return to the church but could not, so he wrote them a letter.
Paul begins the letter by telling them how often he prays and thanks God for them (1 Thess.1:2–3). Paul is certain of God's saving work in their lives because the gospel came both in word and the power of the Holy Spirit (1:5). The Holy Spirit worked in connection with the Word to convert them from idolatry to Christ and to cause them to endure the persecution that mounted (1:9–10).
Paul reminds them of how he preached the gospel boldly to them (2:2–6). He did not try to deceive them, he did not try to please them (he aimed at pleasing God), he did not try to flatter them by telling them only what they wanted to hear, and he did not seek glory from anyone. Like a parent nurturing his children to grow in the Lord (2:7,11–12), he not only shared the gospel with them but his very life because he loved them so dearly (2:8). He rejoices that they received the Word as it really is—not a human message but God's Word (2:13)! Paul knows it is working effectively in them because they are enduring persecution (2:14).
That persecution forced Paul and his crew to leave, but despite not being there in person, he is with them in heart (2:17). They are his hope, joy, and crown of boasting at Jesus' appearing (2:19–20). What does it mean for them to be his crown? Commentators often agree that the crown mentioned here is not the royal crown but rather the crown given to the winner of an athletic competition, much like a trophy. Paul says that his win—his trophy—when he appears before Christ to be evaluated for his ministry is his children making it to glory. He looks ahead with the eyes of faith to this church in glory, and that brings joy to his heart. For Paul, as it should be for all pastors, the Lord's assessment of his ministry is the only thing that matters.
Like parents rejoice over their growing children, Paul rejoices over his children in the faith and has high hopes for them—that they will endure to the end.
Since Paul will be judged by the endurance of his converts, he wants to make sure his children in the faith grow and that persecution won't derail them. So, he sends his co-laborer Timothy to strengthen and encourage the Thessalonians' faith (3:2–3). Timothy brings back a great report that they are doing well (3:6). They did not fizzle out like the seed sown on gravel, but rather are persevering. Paul is overjoyed and cannot thank God enough for that joy (3:9). Paul ends with a prayer to challenge them to keep on growing in love and holiness until Christ comes (3:11–13)!
The opportunity to share the Word, to share life, to see transformation, to endure hardship, and ultimately to see people make it to glory—that is the joy and the crown of pastoral ministry.
Despite all the challenges, the problems that need fixing, the trying sheep, and so much more, that crown should never be taken for granted.