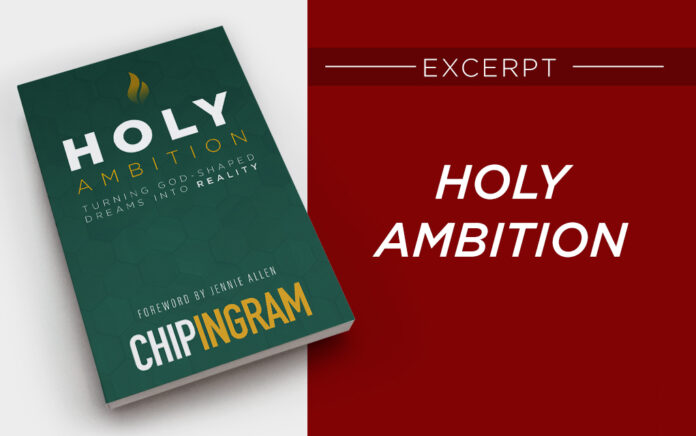 What do we really want God to say to us someday?
Excerpted From
Holy Ambition
By Chip Ingram
Holy Ambition
You have probably heard the phrase "Well done, good and faithful servant!" as long as you have been a Christian. You may even know that Jesus used the phrase twice in one of His parables (Matt. 25:21, 23) to give us a picture of the way God will settle accounts at the end of the age. I'm sure you have heard at least one sermon that ended with an emotional appeal to think about how wonderful it would be in eternity to stand before God and hear Him say, "Well done, good and faithful servant." The problem is such sermons rarely tell you what it will take to get there. 
Most Christians I talk to want to finish well. Unfortunately, "finishing well" gets translated into some vague wish that God will say something nice to them in eternity, but they don't dare make that phrase the purpose of their lives. But if that isn't the purpose for living once we've met Christ, then what is? What is the target of our Christian life? If we aim at nothing, we're sure to hit it. What are we aiming at as we follow Christ? What's our holy ambition? 
What do we really want God to say to us someday? 
I know ambition is one of those almost forbidden words in Christian circles. It shares a place with words like discipline, suffering, passion, and perseverance on a list of terms that may offend comfortable Christians or skittish pagans. Based on our sensitivities, the Bible is full of such offensive language. It calls us sinners and questions our integrity. 
If we weren't dealing with God's Word, we might resent the insinuations. The New International Version uses the word ambition seven times. Five uses are negative (selfish ambition) and two are positive. Paul told the Romans, "It has always been my ambition to preach the gospel where Christ was not known so that I would not be building on someone else's foundation" (Rom. 15:20). He also told the Thessalonians, "Make it your ambition to lead a quiet life" (1 Thess. 4:11a). Other translations tend to substitute the word aspiration for ambition, but I like the edginess of holy ambition. That's because I find the attitude of holy ambition taught everywhere in Scripture. It's unavoidable. The phrase itself isn't used that often, but many commands and directions from God's Word can only be applied if we make them our holy ambition. Consider these examples:
Trust in the Lord with all your heart and do not lean on your own understanding. In all your ways acknowledge Him, and He will make your paths straight. —Proverbs 3:5–6 NASB
But it is not this way with you, but the one who is the greatest among you must become like the youngest and the leader like the servant. For who is greater, the one who reclines at the table or the one who serves? Is it not the one who reclines at the table? But I am among you as the one who serves. You are those who have stood by Me in My trials; and just as My Father has granted Me a kingdom, I grant you that you may eat and drink at My table in My kingdom, and you will sit on thrones judging the twelve tribes of Israel. —Luke 22:26–30 NASB 
And He was saying to them all, "If anyone wishes to come after Me, he must deny himself, and take up his cross daily and follow Me. For whoever wishes to save his life will lose it, but whoever loses his life for My sake, he is the one who will save it." —Luke 9:23–24 NASB
What you just read is only a sample. Each passage presupposes or demands that we respond with holy ambition. If we make it our ambition to save our lives, Jesus said, we will lose them. But if we make it our holy ambition to lose our lives for His sake, Jesus promises that we will discover and experience life to its fullest. 
Holy ambition is deep and long. It affects every part of life for all of life. The depth and length of our holy ambition will be tested. One day the faithful will hear God say, "Well done, good and faithful servant!" 
How does holy ambition work? How does holy ambition turn into a life that makes a difference? What's my part? What's God's part? The landscape around holy ambition can be very dangerous unless we understand how God creates and sustains this passion in our hearts. God wants to do something supernatural and tremendous through you; but unless you understand where He begins and how He works, you're destined for failure.
That's why one Old Testament verse has had particular meaning to me over the last thirty-five years. I memorized this verse when I first became a Christian but didn't understand its full impact. The words simply struck me as too wonderful to be true. Later, as I studied this passage carefully, I came to understand that this was not only a promise for one king in Israel but also a timeless axiom of how God relates to every man and every woman in every age. Follow along carefully and listen to the spirit behind these words: 
For the eyes of the Lord move to and fro throughout the earth that He may strongly support those whose heart is completely His. —2 Chronicles 16:9 NASB 
Please read this statement again slowly. Think of it as true, not just something written three thousand years ago in the land of Israel but at this very moment in your life, your neighborhood, and your church. This verse expresses not some antiquated view of God but a timeless truth. It describes the omniscient (all-knowing), all-powerful, all-wise God who is carefully considering the earth and looking for a select group of people. As you read this verse, are you among those people whose hearts are fully His? The promise of this amazing passage is that God is looking for people He can strongly support. In other words, God wants to do far more in most all of us than most of us want Him to do. He is looking today for something in the human heart that will ignite His support in his or her life.
Many Christians coast or fade badly near the end of their race. They start well, but they usually finish poorly. There are not many churches that start well, grow, and then stay well.
Do you know what usually happens with people, churches, and organizations—people like you and like me? Once we experience success because we trusted God out of desperation, we usually go on to do one of two things: (1) we take the success and its results for granted and become arrogant, or (2) we forget the process God used and settle into a comfort zone that leaves God in a corner of our lives. Survival tactics gradually replace holy ambition. We get respectable inside Christian circles and gradually come to resist the idea that faith has anything to do with risk. 
We may proclaim our security in Christ even though we are actually relying on every other form of security than Christ. We avoid risk. Our focus is primarily on the rearview mirror—what God did in our past—instead of radically trusting Him for the future. We learn to depend on people, on laws, and on principles. We begin to level off or settle down, losing any sense of holy ambition, losing sight of the edge, that close reliance on God.
God calls us to holy ambition, not only individually, but also corporately. You can't live on the edge without getting other people involved. 
Holy ambition is selectively contagious. Some will follow your example; others won't. That is all part of the joy and challenge of living powerfully for God. Holy ambition means living with a large purpose in life. I like to remind our ministry regularly of our particular challenge with this question: Are we going to answer God's call for living on the edge to make a significant impact in this new millennium, or will we rest on past success?
Excerpted from Holy Ambition: Turning God-Shaped Dreams Into Reality by Chip Ingram (©2022), published by Moody Publishers. Used with permission.