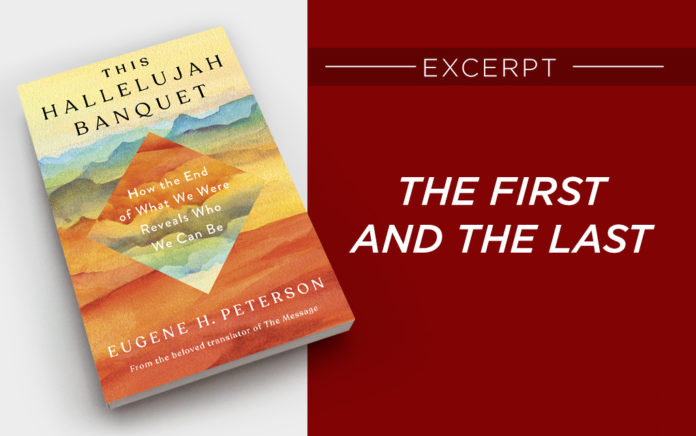 Excerpted from 'This Hallelujah Banquet' (WaterBrook)
Excerpted From
This Hallelujah Banquet
By Eugene H. Peterson
I've asked myself these questions many times: What is the best thing to say to a person who is suffering? What is the true thing to say? What can one say to the person in pain? There is always some embarrassment in saying anything. After all, I am not suffering. I am not having to undergo the trial of faith, of sense, of meaning. Isn't there something presumptuous, an element of arrogance, in saying anything at all? For the person can always respond, "It is well enough for you to talk like that, but it is not you who is suffering."
Plus, there is equal danger in saying the wrong thing. What if what you say gives false hope and its consequences are a deeper disillusionment? What if what you say misses the point so completely that you do not help but hinder?
The second church given a personal word of counsel in Saint John's revelation of Jesus Christ was a church that was suffering. And as a pastor with the deepest of concerns for their pain, John spoke a true word of God to them. He began by saying that Christ had a personal word to speak to them and then described this Christ as "the first and the last, who died and came to life" (Rev. 2:8).
To describe Christ as "the first and the last" is to say that he includes everything within himself. He is at the beginning and at the end; all that occurs between occurs in the context of his presence. He doesn't appear on the scene when the play is half over, nor does he leave before the final curtain. He is the first and the last. That is a pretty important word to say to a church that is suffering.
Christ is at the beginning. We did not get started in life without his presence. Whatever our state now, we didn't get here by ourselves or without God. And Christ is here until the finish. However bereft we seem to be of his presence in our pain, he has not gone off and left us. Existence does not occur outside the confines of Christ's first and last. We are hemmed in by his grace.
The phrase Saint John used parallel to "the first and the last" is startling: "who died and came to life." That is just the reverse of what we use to describe people we know. We say "who was born and died." We think of life as the beginning and death as the end. And the terror of suffering is that it threatens to bring the end closer. But Christ was described in opposite terms: "who died and came to life."
Death is for him the beginning. Instead of disaster, it became resurrection. And it is this person—this person who suffered as we suffer, who felt pain as deeply as we will ever feel pain, who endured anguish, doubt, and fear, and who finally felt even death—who takes death as the beginning point and speaks living words of life.
With such a Christ speaking to us, we cannot resent his words as if they were words spoken safely and remotely—words of some healthy, cheerful person to a suffering, depressed person. Christ has felt all that we will feel. And we cannot dismiss his words as being mistaken simply because they do not fully encompass either all that came before or all that might come in the future. No, Christ is the first and the last. He knows the preceding days, and he will be present in the impending ones. It is such a person who speaks to the suffering person. Christ has authority to speak because he has been through it all himself, one with something true to say because there is no aspect of suffering, even death itself, that he has not examined in his own life.
Jesus, in effect, says to the suffering, "I know. I know everything that is taking place. I know from my own experience, and I know because I am with you in your experience. I suffered. I died. I know your suffering and your death." When someone is sick or suffering and we say to her that we are thinking of her and praying for her, we are reflecting and sharing in this "I know" of our Lord. When we send flowers, cards and letters and make visits to her, we are the people in whom Christ lives and who are evidences of his presence, signs of our Lord's knowing. Ours is partial and fragmentary, of course. But it is a reminder of that complete knowledge that our Lord has of our pain and our impending death. We are not isolated. We are not separated either from God or from his people. He knows, and he is with us.
Adapted from This Hallelujah Banquet: How the End of What We Were Reveals Who We Can Be © 2021 by Eugene H. Peterson. Published by WaterBrook, an imprint of Random House, a division of Penguin Random House LLC.