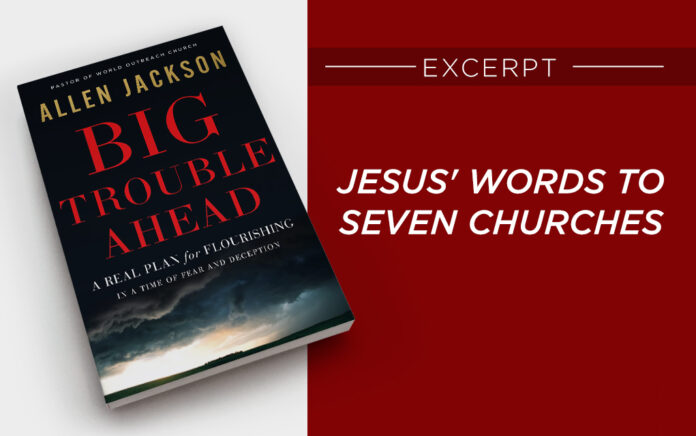 Excerpted From 'Big Trouble Ahead' by Allen Jackson
Excerpted From
Big Trouble Ahead
By Allen Jackson
It is good for us to remember that Jesus is intimately aware of everything that goes on in each of His churches on the earth. He knows when our aim is to please and glorify Him. And He knows when our aim is to please and glorify ourselves.
In Revelation 2–3, Jesus instructed John to write down specific messages to seven different congregations. In every message Jesus began with "I know" and went on to tell each church what He knew about them— their strengths, their weaknesses, their reputation, their hardships, their financial state, and more. Here's a brief summary of what Jesus had to say to these groups of believers.
To the church in Ephesus. Jesus said that He knew their deeds, their hard work, and their perseverance. He knew that they could not tolerate wicked people and had tested the claims of false teachers. He commended them for their perseverance and for enduring hardship for His name without growing weary. Yet He held it against them that their love for Him had dimmed from what it had been at first, and He wanted them to repent and regain their passion.
To the church in Smyrna. Jesus told them that He knew about their afflictions and their poverty but that they were rich in His eyes. He knew that they were suffering persecution for His sake and that they would suffer still more. He assured them, however, that no matter what they were asked to suffer for Him, He would reward them for it.
To the church in Pergamum. Jesus acknowledged that even though their city was a seat of Satanic power, they had stayed true to Him . . . mostly. He noted that some among them were following pagan teachings, and the rest of the group evidently had allowed them to remain in the fellowship without consequence. He instructed them to repent.
To the church in Thyatira. Jesus commended them for their deeds, their love and faith, their service and perseverance, and for increasing in those things. But some among them were tolerating a prophetess who was encouraging sexual immorality and other pagan practices. He encouraged any who sinned with her to repent, or they would face His punishment.
To the church in Sardis. Jesus acknowledged their deeds and something else: they had a reputation of being alive, but they were dead. They had done what many modern churches do—create a facade of activity that covers a spiritually dead congregation. Jesus had not given up on them, however, and He encouraged them to wake up and strengthen what remained.
To the church in Philadelphia. Jesus had given this congregation a special opportunity for evangelism, and He wanted them to take advantage of it. He acknowledged that while they had little strength of their own, His strength was sufficient for the task. And because they had endured patiently under persecution, He would spare them from the trial that would come on the whole earth in the future.
To the church in Laodicea. This congregation had convinced themselves that they were okay. They thought that because they were financially stable they didn't need anything else. But Jesus did not agree. He said that spiritually they were lukewarm, wretched, pitiful, poor, blind, and naked. He offered them remedies for their spiritual ills and famously asked to be invited into their lives.
What About My Church . . . and Yours?
Jesus sent these messages to seven specific congregations, but He also intended them for "whoever has ears" to hear (Revelation 3:22). Jesus told every church, "I know your deeds." We can be assured that He knows everything our churches are doing—and not doing as well as our motivations. So let's think about our churches, your church and my church, and consider what we are doing in light of Jesus' messages for the seven churches of Revelation.
Are we excited about our relationship with Jesus and about serving Him? Can the world see our excitement?
Are we working hard on His behalf and persevering when we face trials and hardships?
Would you say that your church is spiritually hot, cold, or lukewarm?
Do we depend on our financial resources for our spiritual security?
Is the God of the Bible our sole authority? Or have we allowed any unbiblical philosophies to infiltrate our fellowship?
Do we tolerate any false teachers in our congregation, or do we work to convince them of the truth of the gospel? If they will not be convinced, what do we do?
Do we tolerate sexual immorality of any kind?
Do we avoid doing anything that might cause us to suffer for the name of Jesus?
Have we created a facade of spiritual activity to cover a spiritually dead congregation?
Are we taking advantage of every open door for evangelism?
What Will Be Said About Us?
I often wonder what will be said about the church in this generation. We have stood by as prayer and the Ten Commandments have been removed from public places. We have failed to intervene while millions of babies have been killed through abortion. We were largely silent while pornography and violence became mainstream entertainment. We looked away while gender became a choice and the family was redefined. We accepted the government's declaration that church was not essential. We've allowed our worship to be dictated by comfort and convenience. Now we see God shaking the things around us. What will our response be? Rather than being filled with panic and dread, we should allow our righteousness to shine. We should consider the source of our hope and our joy. We should allow the Holy Spirit to give us godly wisdom that we can share with others. We should share the hope found in the shed blood of Jesus and His righteousness.
This may seem like a tall order, but it is actually rather simple. It is simply living to honor the Lord . . . one day, one decision, and one conversation at a time.
Adapted from Big Trouble Ahead: A Real Plan for Flourishing in a Time of Fear and Deception. Copyright © 2022 by Allen Jackson. Published by Thomas Nelson. Used by permission.