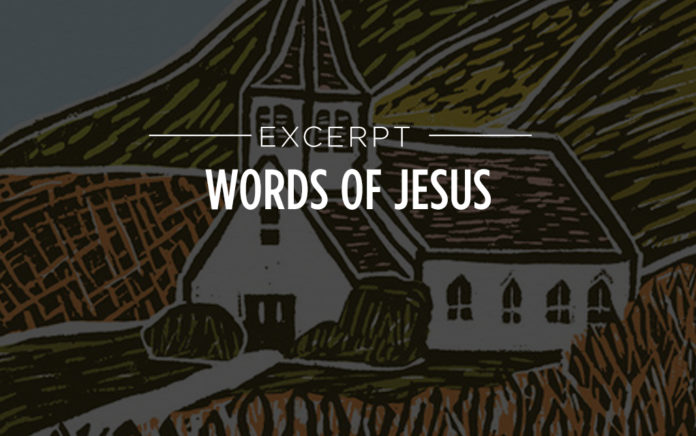 We are commissioned not just to talk about Jesus, but to share the words of Jesus.
Excerpted From
The Care of Souls
By Harold L. Senkbeil
Words of Jesus
The words of Jesus—that's what people need to hear. They don't need to hear merely words about Jesus, but the words from Jesus. Because his words are spirit and life, as Peter confessed, they enact reality—they actually do something. By his word, Jesus in fact bestows his Spirit and life. Jesus himself put it this way in the earnest conversation with his Father that dark night of his betrayal in Gethsemane. He prayed not just for his beloved disciples, but also for those who would believe in him because of their words. Just think: He had you in mind!
"I have given them the words that you gave me, and they have received them and have come to know in truth that I came from you; and they have believed that you sent me. … But now I am coming to you … I have given them your word, and the world has hated them because they are not of the world, just as I am not of the world. I do not ask that you take them out of the world, but that you keep them from the Evil One. … Sanctify them in the truth; your word is truth." —John 17:8, 13–17
Christ's mission and your ministry go together. You're a man on a mission because you are a minister of Christ, chosen and commissioned to do his bidding in this world. You have been given the words of Jesus to proclaim. So just do it. Do what you've been given to do; don't settle for anything short of that.
Too many sermons stop short of preaching Jesus; they are content to preach about Jesus instead. We may hear a lot about his glorious deeds and his astonishing mercy, his compelling and exemplary love, but we don't really hear from Jesus himself. The compassionate words of Jesus are not proclaimed viscerally into the mess and misery of real life where people struggle on day after day under an oppressive pile of guilt and shame. Nor for that matter does his penetrating word ever pierce the calloused hardened hearts of people who live carefree, self-indulgent lives, blissfully ignorant of their impending doom. To heal those hard-boiled hearts and comfort those sorrowing, suffering souls, people need to hear the words of Jesus proclaimed into their ears so that faith can take root in their hearts. That faith lives by love all life long, then blossoms into fruition in heaven's glory.
Christ's sheep need you, but only because they need Jesus. In your ministry you bring Jesus to them. Specifically they need to hear his voice—the voice of the Great Shepherd. His voice is the difference between life and death in this world and the next. Jesus said so:
"My sheep hear my voice, and I know them, and they follow me. I give them eternal life, and they will never perish, and no one will snatch them out of my hand." —John 10:27–28
Everyone a Witness
Now keep in mind that the words of Jesus are not your private possession as a pastor. He has given them to the whole church to speak, not just the called servants of the Word. Whenever and wherever the baptized faithful speak the word of the gospel, it remains the power of God for salvation to all who believe (Rom. 1:16). In their daily vocations as father, mother, son or daughter within the family or in society as worker or employer, every Christian is called upon to bear witness to a watching world concerning the hope that is within them. And by the gospel the Holy Spirit continues to call, gather, enlighten and sanctify the whole Christian church on earth.
Mission is not something extra or added onto the life of the church; it belongs to her very essence. As faith lives by love, so the church lives in mission. She cannot help but speak of what she has heard and seen. What she first receives from her glorious Lord she then passes on to those who do not yet confess him. Mission is nothing more than the church in motion to dispense the gifts of life and salvation that are in Christ Jesus. The beating heart of her life together is the person and work of Jesus and his powerful words that are spirit and life. Statistically the church may currently be in decline, but the way by which she grows is no mystery: As long as the earth remains souls are won and nourished by the word of the gospel.
Some of my most rewarding years in ministry were spent as a missionary and church planter in Madison, Wisconsin. You can well imagine what a country hick like me felt like going to a comparatively large university town—and one not noted as a hotbed of social conservatism, at that.
Jane and I were apprehensive at first about even raising our family of young children in "the big city"—especially one that the head of my denomination's area judicatory called "the New York of the Midwest." He told me it was as close as a pastor can get to foreign missions in the continental U.S. God had something good in store, however. My six years there as missionary and then first pastor of a new and growing congregation were not just golden for me; they are years that our family looks back on gratefully to this day.
Madison was a melting pot of ethnicities, cultures, ideas and professions. We soon gathered a little flock of mission-minded folk who met in our family room for Bible study and prayer, then began regular door-to-door canvassing and visits. Soon the gospel bore fruit. New converts joined a cadre of members from sister churches in the area, forming a small but vibrant Christian community.
As the church outgrew its temporary rented space in a local business, we worked together to build the first stage of a large sanctuary that today stands on an imposing hill in West Madison. Most wonderful of all, of course, were the souls who were being built together as living stones to become a spiritual temple for the worship and service of God. When I was called away to serve another congregation, it tore my heart out; we had worked together for so long and so hard that close ties were built among us all.
But here's what I learned as a missionary: In gaining souls for Christ, you need to tend those souls in his name as well. Not only did they need basic instruction in God's Word and ground floor training in the historic faith, they also needed individual care and cure for the whole range of spiritual issues you can find in any cross section of humanity. In my relatively brief tenure there I brought the correction, balm and healing of God's word to bear for people who faced the full gamut of the ravages of sin; not just physical sickness and death, of course, but marital discord and unfaithfulness, bitterness, anger, doubt and uncertainty, same-sex attraction and more.
The wonderful thing about the precious souls who formed the leadership of that mission congregation was this: They believed the Word of God to be at the heart of the church's life. They went to extra lengths to ensure that preaching and teaching remained uppermost in the life of our little mission as it began and then as it grew spiritually and numerically. "Pastor," they said, "let us handle all the many details in getting things up and running. We want you to devote yourself to the study of God's Word and preparing quality sermons for us."
When first things are kept first priority, missional outreach and the care of souls are a seamless whole. Through God's Word and sacrament God gives his Holy Spirit, who works faith in those who hear the gospel. That's the secret to vital mission in apostolic times, and it's true still today.
Jesus taught his disciples that his word is like leaven, growing slowly and imperceptibly until it leavens the whole loaf (Matt. 13:33). As it was then, so it is now in this our generation. Day by day, year by year, and era by era the Holy Spirit continues to call, gather and enlighten people by the gospel. That word of the gospel is put into the mouths of the called servants of Christ to proclaim, but it's also placed on the lips of fathers and mothers to teach their children, to tell their friends and neighbors, to share with colleagues and coworkers.
Order this book from Amazon.com »
Excerpted from The Care of Souls: Cultivating a Pastor's Heart by Harold L. Senkbeil (Lexham Press, 2019). Used by permission.