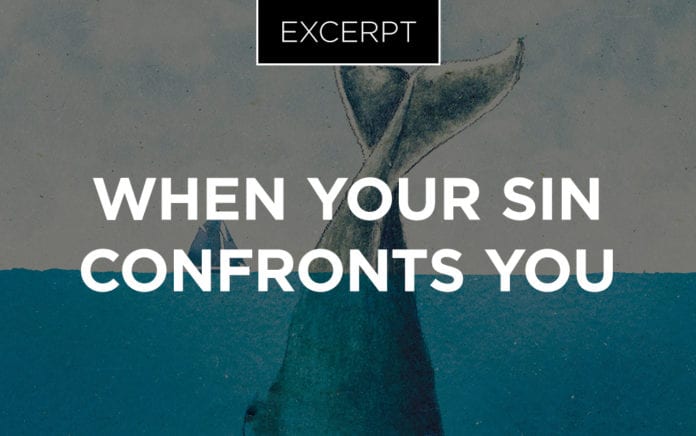 Our sin doesn't just affect us. That's why it cannot stay hidden.
Excerpted From
Running From Mercy
By Anthony Carter
Knowledge, wisdom and insight come from God. It is important that you and I see the hand of God in all the affairs of our lives. Always see God at work in your life. Like Joseph from the pit to the prison to the palace, God had his hand on Joseph the whole way. God has his hand on you too. Do you see it? Are you observing it?
The Puritans would say, "He who observes providence has providence to observe." In other words, if you are careful to look around and look for the hand of God in your life, you will see the hand of God in your life. And consequently, the more you see, the more you will see. You will see that all creation, great and small, belongs to him.
Don't think for a moment that the song "He's Got the Whole World in His Hands" is just a ditty for kiddies. It is full of some of the simplest and yet most profound theology you could ever sing. Our God does have the whole world in his hands.
Be quick to see the hand of God in the events and the affairs of your life because even though the sailors had yet to see it, you know who did observe that providence? Jonah. Jonah could see the invisible hand of God tracking him all the way. It brought him face-to-face with his sin.
You Can't Outrun Your Sin
Jonah observed the invisible hand of God in the events surrounding him. Jonah disobeyed God and boarded a ship for Tarshish when a violent thunderstorm threatened all the sailors onboard. They demanded to know who was responsible, and Jonah confessed he was to blame because he rebelled against God. He knew it was God working in the storm because he came to understand that he could not outrun his sin. In seeking to outrun God, Jonah was trying to outsprint his sin. He was trying to outdistance his disobedience. Numbers 32:23 clearly tells us, "Be sure your sin will catch up with you." When you seek to run from your sin, there will eventually be a confrontation.
"… The sailors went to him and asked, 'Tell us who is to blame for this trouble we're in'" (1:8). They confronted him because his sin no longer affected just him.
That's one reason eventually there is going to be a confrontation. You and I need to understand that our sin rarely, if ever, affects only us.
The sailors knew something was amiss. This was a storm unlike any they had ever known. And now Jonah's sin was putting them in peril. This is a principle the Bible illustrates over and over again.
In Joshua 7, Achan sinned by doing contrary to what God commanded the nation Israel to do. Achan's disobedience caused difficulty and hardship for the whole nation. When David, in 2 Samuel 24, took a census and counted the people against the will of God, 70,000 people died on his account. Yet, arguably, the worst of them all was the sin of Adam.
When Adam and Eve sinned in the garden of Eden, it didn't just affect Adam and Eve. Romans 5:12 reminds us: "Therefore, just as sin entered the world through one man [Adam], and death through sin, in this way death spread to all people, because all sinned." Adam's sin enslaved all humanity to sin and death.
You should always remember that your sin never affects only you. This is the reason you can't outrun your sin: because it will affect those around you. Sons and daughters, your sin affects your parents. Husbands, your sin affects your wives. Wives, your sin affects your husbands. Fathers and mothers, your sin affects your children. Christians, your sin affects your fellow church members, your family, your friends and your community. Your sin affects others. And therefore, God will bring it to light. God says, "For my gaze takes in all their ways. They are not concealed from me, and their iniquity is not hidden from my sight" (Jer. 16:17).
God knows. And he not only knows, but he reveals. "[God] reveals deep and hidden things; he knows what is in the darkness, and light dwells with him" (Dan. 2:22). God is going to reveal it. And when God confronts and reveals our sin, the true child of God will acknowledge it for what it is. And that's what Jonah did.
Tell me more about this book »
Order this book from Amazon.com »
Excerpted with permission from Running From Mercy by Anthony J. Carter. Copyright 2018. B&H Publishing Group.