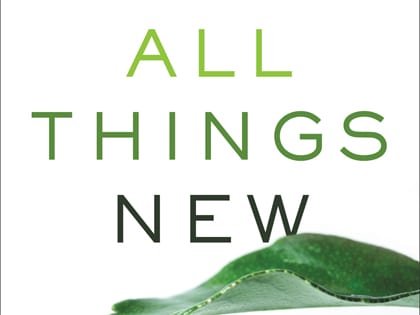 John Eldredge: Heaven, Earth, and the Restoration of Everything You Love
John Eldredge is an author, counselor and teacher. He is also president of Ransomed Heart, a ministry devoted to helping people discover the heart of God, recover their own hearts in God's love and learn to live in God's kingdom. Here, he talks about his new book, All Things New.
1. What is the passion that drove your writing of All Things New?
Two things, really. First, the human race is desperate for hope. Depression is the leading cause of disability worldwide. Suicide is the first- or second-leading cause of death among our young people, depending on the country. We are in a massive hope crisis; we need what Hebrews calls a hope that can be "the anchor of the soul" (6:19).
And second, because nearly every Christian I have ever met doesn't know that we do not spend eternity in heaven—we spend it right here, on a restored Earth. No one I've talked to understands that God promises "the renewal of all things" (Matt. 19:28). A time is coming soon when God will "restore everything" (Acts 3:21). We simply must recover this message, this breathtaking hope.
2. Why should pastors and other church leaders read it?
Christian leadership is the hardest job in the world, and the loneliest. We suffer so much betrayal, misunderstanding, ingratitude and fatigue. We have to know personally that a day is coming when all our hidden choices to love, to forgive, to carry on—all of it will be rewarded, and then some. People are looking to us to know what it is we are supposed to hope for.
The eternal church service in the sky isn't exactly capturing people by the thousands. Because it isn't true. But if we could tell the world that God is going to restore everything you have lost, that a great day of restoration is coming, we would gain a hearing. For this is the gospel (Matt. 19:28-29, Acts 3:21, Rev 21:5).
Read an excerpt from All Things New »