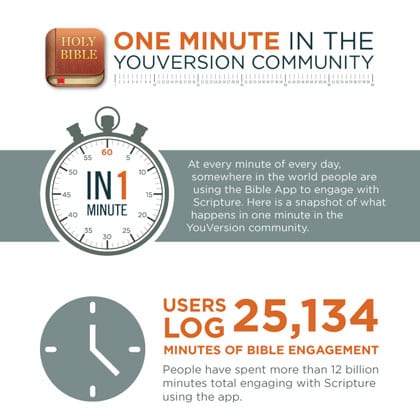 Created by LifeChurch.tv, YouVersion plans to roll out features in the coming months to help churches use the Bible app with their congregations.
OKLAHOMA CITY—Announcing new developments and sharing usage milestones, YouVersion, creators of the online Bible and the No. 1 Bible app, held a webcast Nov. 30, generating a trend worldwide on Twitter with the hashtag #YouVersion. The event featured a new infographic that details the extensive usage of YouVersion in the span of one minute.
"YouVersion was designed to take today and tomorrow's technology to help people engage in the Bible," said Bobby Gruenewald, pastor, innovation leader of LifeChurch.tv and co-founder of YouVersion. "It has been great to see how this is happening with our infographic stats, and we are excited to see the growth as we begin creating community for users."
The infographic shows that in one minute, users log 25,134 minutes of Bible engagement; the Bible app is installed on 52 new mobile devices; and the Bible app is opened 1,698 times.
YouVersion will roll out a variety of community features in the coming months for churches to utilize the Bible app with the congregation beginning with the launch of a profile feature this week on the iPhone and Android.
User stats since the creation of YouVersion in 2008 show a cultural trend that is difficult to ignore. The Bible app has been installed on one out of every 17 iPhones, iPads and Android devices sold globally. In just one Sunday recently, the YouVersion community created an average of 2.7 Bible verse highlights per second, for a total of 233,000 highlights in one day.
The free Bible app is available on the iPad, iPhone, BlackBerry, Android, Windows Phone, WebOS, and Java phones, as well as any Web-enabled mobile device. It was developed by the team at LifeChurch.tv. The Edmond, Okla.-based church has taken a very unconventional approach to ministry by developing technology and leveraging web-based tools to share the Gospel.