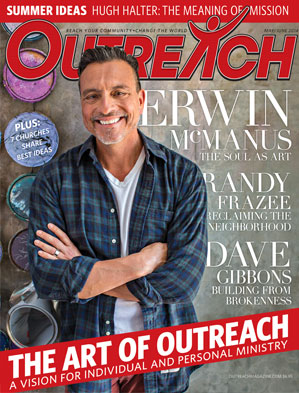 In the May/June 2014 issue: Randy Frazee on Neighborhood Connections, Dave Gibbons on Ministry Out of Brokenness, the Outreach Interview with Erwin McManus and much more
Inside the May/June Issue
The Art of Outreach
Seven churches face the challenge and opportunity of outreach—and they innovate. Seven churches alive to their responsibility, creative in their approach.
In addition to the inspiration that comes from these stories of ministry innovation, we wanted to dig deeper into the lives of three churches and three leaders to help frame a definition of The Art of Outreach in terms of intensely personal and individualized ministry.
Randy Frazee's story is intertwined with his successor, master storyteller Max Lucado. But as you will read, one man can't fill another's shoes—and shouldn't aspire to. Frazee brought his own story to bear on the life of Oak Hills Church, and the result is a rediscovery of neighborhood as the heart of community strategy.
Newsong Church was born out of brokenness, and Dave Gibbons' story intersects with scores of others who are finding hope and clarity of their destiny through a ministry that makes room for misfits.
Mosaic in Los Angeles does not rise from the typical church mold, which one might expect of a church community born in the mind of the iconoclastic Erwin McManus. In his quest for a fresh way of seeing and expressing deeply spiritual ideas, the vision of The Artisan Soul emerges, the soul as a work of art.
Don't Miss
Heart of the Family (And Other Stories)
Seven churches share a glimpse of their strategies and initiatives to create connections, build community and instill a vision for mission.
Randy Frazee: Into the Neighborhood
"Community is a conduit of life. You live in community. If you starve yourself of community, you die."
Dave Gibbons: Out of Brokenness
"The consumer church focuses on comfort and felt needs. By doing so, we miss the full expression of the gospel."
Erwin McManus: The Interview
The voice of God urges us on toward that masterpiece we were designed to create, our own artisan soul.
ALSO: Hugh Halter on what it means to be missional and incarnational, and much more.
Plus, in Each Issue of Outreach
PULSE: We take the pulse of outreach today as we report on what churches are doing to connect with their communities.
IDEAS: Church-tested ideas for seasonal and targeted ministries for any church, any size
VOICES: Trends and commentary on culture, faith and thought
COLUMNS: Perspective on outreach from Ed Stetzer, Dan Kimball, Bobby Gruenewald, Brad Powell and Brad Lomenick.
Outreach magazine is now available for iPad
Already a subscriber and want to access your free digital edition? Or want to purchase individual issues for iPad? Click here »