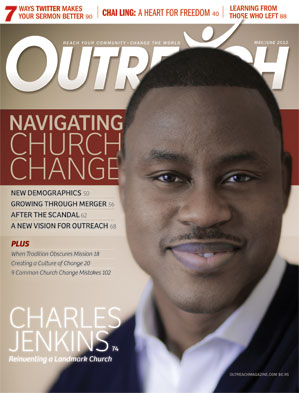 How the church can thrive despite the challenge of transition … plus the Charles Jenkins interview.
Inside the May/June 2012 issue
TRANSITIONS: Navigating Church Change
There's this tenacious idealism that doesn't want to let go: If the church is the body of Christ, it ought to be perfect—now. The bride of Christ ought to be spotless. The temple of God should not be shabby.
Then there's the church we attend. Or lead. An imperfect people moving through an ever-shifting culture. We face change. And change does not necessarily bring out the best in imperfect people.
On Dec. 14 at 10 a.m., the Outreach editors met to refine our discussion of this issue. How do we negotiate church change? How do we thrive in transition? We talked about ethnic shifts—the challenge of creating a multiethnic expression. We considered church mergers—when are we "better together"? We discussed the painful process of rebuilding credibility and picking up the pieces following scandal. We looked at new leadership, new vision, new focus—and we reaffirmed the church's call and its great opportunity: to turn its eyes outward to a community and world in need. And we looked at history vs. current events—transitioning a traditional church—and made plans to interview Charles Jenkins, who was called to reinvent a landmark Chicago church.
Five transitions. Hardly an exhaustive list. We know, for instance, a church goes through rather daunting changes as a natural part of its life cycle—from birth to self-sustaining and self-propagating. There are the external pressures of cultural shift. And there are those Phoenix churches, up from the ashes and back from the brink.
But for all the talk of navigating church change and thriving through transition, it is first and primarily a spiritual challenge the church confronts. And here's the encouragement: It is a building project with Jesus Himself as the chief architect. It will not fail.
No one will mistake the church for "perfect"—not yet. But just wait. —James Long, Managing Editor
IN THIS ISSUE
WHEN THE COMMUNITY CHANGES COLOR: Leading Wilcrest Baptist Church's transformation amid the neighborhood's changing demographics
GROWING THROUGH MERGER: Leading Woodside Bible Church through multiple mergers
AFTER THE SCANDAL: Leading New Life Church after another pastor's fall from grace
A VISION FOR OUTREACH: Leading NorthRidge Church to embrace an outward focus
THE OUTREACH FEATURE INTERVIEW: CHARLES JENKINS Reinventing a Landmark Church
IN EACH ISSUE OF OUTREACH:
We take the Pulse of outreach today as we report on what churches worldwide are doing to connect with their communities and put their faith in action. Pulse includes focused sections on cross-cultural, children's, youth and seniors' outreach efforts, plus the people profile, "Soulfires," a personal story of the passion that ignites ministry.

In Ideas, we talk about church-tested ideas for seasonal and targeted ministries for any church, any size. The Ideas department includes features on "Retention" (how churches are closing the backdoor and integrating newcomers into the life of the church) and "Church Planting," and profiles individuals and churches through "New Life" and "Small Church America."

Voices brings a perspective From Outside the Church. "My Life, So Far" offers one person's perspective on life, spirituality and the church, generally an author or media personality. "Mystery Visitor" reports on anonymous real visits to real churches. "The Question" takes you to the street, as random people respond to provocative questions.

Ed Stetzer, "As I See It"

As president and missiologist-in-residence for LifeWay Research, Ed Stetzer is in a unique position to observe the American church and comment on trends in outreach.

Dan Kimball, "Church on Mission"

Pastor and author Dan Kimball looks at emerging generations and offers his thoughts on outreach and evangelism in a new world.

Bobby Gruenewald, "Innovate"

LifeChurch.tv pastor, innovation leader Bobby Gruenewald scans the cultural horizon and calls the church to a creative and relevant response.

Brad Powell, "Leading Change"

Pastor and author Brad Powell offers his experience and insights to help churches realize their full potential and guide pastors through all types of church transitions.

Mark DeYmaz, "Ethnic Blends"

Pastor and author Mark DeYmaz urges churches to embrace multiethnic ministry not just for the sake of racial reconciliation, but because that is what the church is called to be.