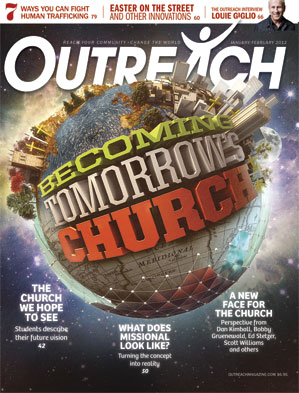 A New Face for the Church, What Does Missional Look Like? and the Outreach Interview with Louie Giglio
Inside the January/February 2012 issue
Becoming Tomorrow's Church
"If You could be part of an ideal church of the future, how would you describe it?" "We believe we have arrived at a curve-jumping moment in the history of the Western church." "A church that wants to remain vibrant is going to have to move in the direction of global risk."
You can't cast vision for the future church without considering where we've come from, where we are and where, by grace, we're destined to arrive. In this issue, forward-thinking church leaders pose the questions, dream the potential and ponder the inevitabilities.
Check out the following features, in addition to perspective from Outreach columnists Ed Stetzer, Dan Kimball, Bobby Gruenewald, Brad Powell, Mark DeYmaz and this issue's special guest, Scott Williams.
"The Church We Hope to See"
Dan Kimball convenes a panel of Christian college students and seminarians to imagine what the church can become.
"Missional in Real Life"
Walk with Granger Community Church (Granger, Ind.) through the timeless question of what it means to be "missional," to live the buzzword. By Rob Wegner
"Easter on the Street"
And other unconventional celebrations
"The Outreach Interview:
Louie Giglio"
Louie Giglio recounts his journey and calls the church to walk with passion into those places the Spirit leads. By Timothy Willard
PLUS:
Outreach Today: Art That Feeds Hungry Kids; Snowboarders Church; The Thorn Experience; Belief in Heaven and Hell; Financially Healthy Congregations; Soccer Ministry; and more.
Ideas for Any Church, Any Size: How to Fight Human Trafficking; Making a Good First Impression Online; Game Changers for Small Group Sign-ups; Missional Thinking for Small Groups; Using Facebook Questions; Generational Characteristics; A Church Planting Blueprint for Success; and more.
IN EACH ISSUE OF OUTREACH YOU WILL FIND:
We take the Pulse of outreach today as we report on what churches worldwide are doing to connect with their communities and put their faith in action. Pulse includes focused sections on cross-cultural, children's, youth and seniors' outreach efforts, plus the people profile, "Soulfires," a personal story of the passion that ignites ministry.

In Ideas, we talk about church-tested ideas for seasonal and targeted ministries for any church, any size. The Ideas department includes features on "Retention" (how churches are closing the backdoor and integrating newcomers into the life of the church) and "Church Planting," and profiles individuals and churches through "New Life" and "Small Church America."

Voices brings a perspective From Outside the Church. "My Life, So Far" offers one person's perspective on life, spirituality and the church, generally an author or media personality. "Mystery Visitor" reports on anonymous real visits to real churches. "The Question" takes you to the street, as random people respond to provocative questions.

Ed Stetzer, "As I See It"

As president and missiologist-in-residence for LifeWay Research, Ed Stetzer is in a unique position to observe the American church and comment on trends in outreach.

Dan Kimball, "Church on Mission"

Pastor and author Dan Kimball looks at emerging generations and offers his thoughts on outreach and evangelism in a new world.

Bobby Gruenewald, "Innovate"

LifeChurch.tv pastor, innovation leader Bobby Gruenewald scans the cultural horizon and calls the church to a creative and relevant response.

Brad Powell, "Leading Change"

Pastor and author Brad Powell offers his experience and insights to help churches realize their full potential and guide pastors through all types of church transitions.

Mark DeYmaz, "Ethnic Blends"

Pastor and author Mark DeYmaz urges churches to embrace multiethnic ministry not just for the sake of racial reconciliation, but because that is what the church is called to be.