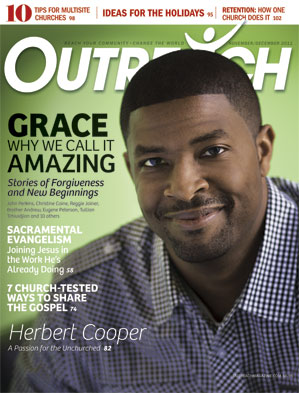 Stories of transformational faith and practical help for all who are passionate about the outreach of the church
What's featured in the November/December 2011 Outreach?
Evangelism
Grace: Why We Call It Amazing
In their book, The Sacrament of Evangelism, Jerry Root and Stan Guthrie write: "

Those concerned that others in their world discover the grace of Christ tend to be alert to the daily evidence of God's activity around them. They see Him when they build a relationship, when they take a risk, and when they are rejected. They also see Him when a dear friend becomes a new follower of Christ." In this issue, the authors urge us to unleash the power of focused prayer as we join the God who is already at work in the lives of those all around us.
The evidence of God's work is seen in the "unlikely" conversion stories of three who remind us why we call grace "amazing," and in the lives of six of today's Christian leaders who encountered Christ and found the experience transformational. This issue also takes a backward glance through the pages of church history as nine historic Christian leaders relate their conversion experience in their own words.
Outreach columnists also tell their stories of the faith journey and pastors recommend resources that are helping their churches do a more effective job sharing the Gospel. There's a lot here to provoke thought, bring encouragement and offer practical tools for the ongoing outreach journey in our families, in our churches and in our communities.
IN THIS ISSUE
"Grace: Why We Call It Amazing"—three stories of new life, a compelling reminder of why we do what we do.
"The Sacrament of Evangelism"—Jerry Root and Stan Guthrie on joining the God who is already at work.
"Transformed"—six Christian leaders share how God revealed Himself to them, changing their paths forever: John Perkins, Christine Caine, Reggie Joiner, Brother Andrew, Eugene Peterson, Tullian Tchividjian.
"What's Working"—pastors from across the country relate seven church-tested ways to share the Gospel.
"Turning Points"—from St. Paul to Augustine, John Wesley to C.S. Lewis: the conversion experience of key figures in church history, in their own words.
"Herbert Cooper: The Outreach Interview"—A former traveling evangelist and now pastor of People's Church, Oklahoma City, talks about his passion to reach the world outside the church.
OUTREACH TODAY
Local church outreach, cross-cultural ministry and outreach to children, youth and seniors
FOR ANY CHURCH, ANY SIZE
Ideas for outreach, the small church experience, retention, new life and church planting
FROM OUTSIDE THE CHURCH
The culture, the church, the question—an outside perspective
ED STETZER—As I See It: As president and missiologist-in-residence for LifeWay Research, Ed Stetzer is in a unique position to observe the American church and comment on trends in outreach. More »
DAN KIMBALL—Church on Mission: Santa Cruz, Calif., pastor and author Dan Kimball gives us a look at emerging generations and offers his thoughts on outreach and evangelism in a new world. More »
BRAD POWELL—Leading Change: Pastor and author Brad Powell offers his experience and insights to help churches realize their full potential and guide pastors through all types of church transitions. More »
MARK DEYMAZ—Ethnic Blends: Pastor and author Mark DeYmaz urges churches to embrace multiethnic ministry not just for the sake of racial reconciliation, but because that is what the church is called to be. More »
BOBBY GRUENEWALD—Innovate: LifeChurch.tv pastor, innovation leader Bobby Gruenewald scans the cultural horizon and calls the church to a creative and relevant response.
Each issue of Outreach is designed to bring you the ideas, innovations and resources that will help you reach your community and change the world. Check out our current subscription offer »