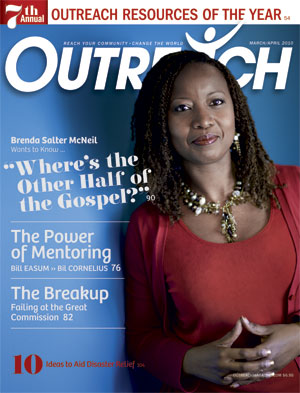 7th annual celebration of the best in books and media focused on evangelism, apologetics, cross-cultural ministry and more, plus Brenda Salter McNeil's provocative question: "Where's the other half of the Gospel?"
Whether it's improving our understanding of different cultures; developing a heart and practice of helping the poor and marginalized; providing direction for us as we meet in small groups; or embracing Christ-like evangelistic interaction with others, each of this year's Outreach Resources of the Year offers something to help us grow in faith, live for Christ and reach the world around us. Tell me more »
ALSO IN THIS ISSUE
"Brenda Salter McNeil: The Outreach Interview"
"Christians should be mad as heck that they only got one half of the Gospel. We've been shortchanged."
It's a rather straightforward—some would call it blunt and maybe even risky—statement. But Chicagoan Brenda Salter McNeil stands firm, having spent the last 30 years processing, teaching and preaching this message. That questioning and exploration has led McNeil to share her learnings and insights with the local church. An ordained minister and founder of the leadership coaching network called the VIBE Alliance, McNeil is pioneering progressive new thinking and sharing it with church plants and established churches that have a passion to be multicultural congregations.Read the interview »
More about Brenda Salter McNeil »
"My Jehovah's Witness Broke Up With Me" What a friendship's abrupt end taught me about sharing Christ by Tim Morey
"The Mentor" Bill Easum and Bil Corelius on the indispensible discipline of friendship with purpose. More »
Church-Run Health Clinics; Health and Weight-Loss Support Groups; Small Groups, Long-Term Service; Assisting the Native American Community; From Kenya to Pennsylvania; Community Art Program; High-Tech Games Center; and more.
Disaster Response; Connecting with Students; Guest Services; Making the Most of Mother's Day; You and Your Social Network; Small Church, Big Idea; Members on a Mission; The Church Gathered, The Church Scattered; and more
Ed Stetzer: "As I See It" Everyone is talking reproduction, but not enough churches are having babies.
Dan Kimball: "Church on Mission" As I and other leaders in our church grow older, we have to keep younger voices and younger thinking at the forefront.
Dave Gibbons: "Global Perspective" It's on the margins of the world where creativity, illuminating reflections and innovation are sparking.
Brad Powell: "Seeds of Change" The only source for enduring and effective spiritual leadership is God Himself.
Mark DeYmaz: "Ethnic Blends" The pursuit of ethnic blends must be firmly rooted in God's Word.
Each issue of Outreach is designed to bring you the ideas, innovations and resources that will help you reach your community and change the world.