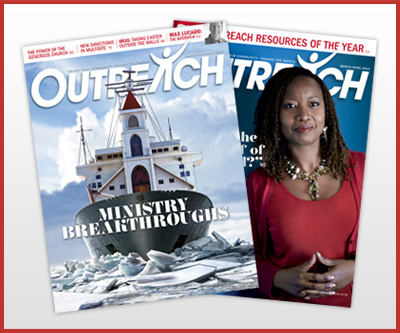 Two free trial issues with one-year subscription
Readers of the Christian Post, order Outreach magazine and receive two FREE trial issues with your one-year subscription.
Each issue of Outreach magazine is filled with ideas, innovations and resources to help you reach your community and change the world.
Today, your community needs the hope of Christ and the outreach of your church more than ever. Outreach magazine is dedicated to helping you be even more effective in reaching your community by giving you tools, inspiration and insights into what is working in churches around the country. Every issue of Outreach gives you dozens of ideas—ideas you can read today and use tomorrow no matter your church size or budget.
Subscribe to Outreach today and receive two free trial issues. With your one-year subscription you will receive six additional bimonthly issues, plus the annual bonus issue: The Outreach 100 Largest and Fastest-Growing Churches in America. That's nine issues in all for only $29.95.
If after your two free trial issues you are not completely convinced that Outreach will help your church grow and be more effective in reaching your community for Christ, simply return your invoice marked "Cancel" and owe nothing. The two trial issues are yours to keep.