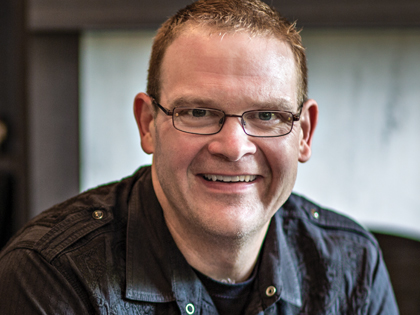 "Bill Hybels coined a phrase years ago that is true of me: The rate at which I was doing the work of God was destroying the work of God in me."
For Perry Noble, the planting of NewSpring Church took a crooked path. Angered by his mother's death when he was 12, briefly homeless through his father's neglect, he considered many other careers before starting NewSpring in October 1999, which an average of 23,000 people now attend at eight campuses throughout South Carolina. In order, they were: football player for the Dallas Cowboys, accountant, computer programmer and restaurant manager. In a Q&A with Outreach, Noble laughs when he looks back: "I would have sucked at all those things," he says. "I always knew God wanted me in ministry. I was running from him."
His story of surrendering to God's call and the planting of NewSpring weaves together God's sense of humor, Noble's knack for controversy and the evidence of what can happen when a self-acknowledged "screwed-up person" makes himself available for God's purposes of redemption.
Interview by Rob Wilkins
What is your church background?
I was born into what you would call an unchurched home. When I was about 3 or 4 years old, some people from a church visited my parents, and they both were saved. When I was 5 years old, my family moved to South Carolina and went to church every week. I tell people I had a drug problem: I got drug to church on Sunday. I got drug to church on Wednesday night. I got drug to church for Vacation Bible School. I got drug to everything.
Did you stay in the church?
When I was 12, my mom was diagnosed with cancer and passed away within three months. For me, I was done. I was done with God, I was done with church, I was done with everything.
What do you remember about your mom's funeral?
Christians, though they mean well, say really ridiculous things when people die. I remember standing by my mom's coffin and people going, "Oh, she looks so natural." I'm like, No, she looks dead. I had known her for 12 years and she never looked like that. Or they would say, "Jesus has called her home" or "God just wanted another rose for his garden." They weren't helping me. I was just confused and angry and frustrated that whole time of my life.
Do you remember a time when you let God know how you felt?
When I found out my mother had cancer and she was going to die, I remember running out the door and into the woods, pounding my fists into the ground. Then, the pendulum swung to desperation. I read these Bible stories about how God heals people, so I prayed and prayed and prayed that he would heal my mom.
What was your relationship to your dad after your mom died?
Very rough. As I look back on what he went through with my mother passing away, I think he went through some severe times of depression. It was bad. When I would go home I didn't know if I was going to get hugged or screamed at. Most of the time he screamed. We lived in a very nice house; we were an upper-middle class family, but dad made some really bad decisions through gambling. Our house burned down two years after my mom died, and my dad started selling drugs. I remember watching the drug bust where the cops came in with guns pointed and arrested my father. Things got so bad that I actually spent some time homeless while I was in high school.